Greece's Health & Wellness Spas
by XpatAthens
Wednesday, 18 February 2015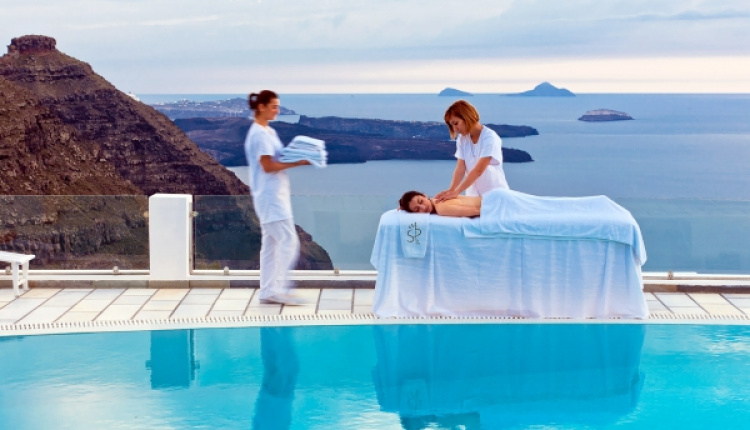 Well-being does not concern physical health only. It is a general feeling, an internal ray of health, force and beauty. It is an on-going process. The successful endeavor by anyone for a better life, the coverage of internal desires, his particularities, the freedom to choose comprise his personal recipe for well-being. I feel good, I'm having a good time, means that I am feeling mentally well-balanced and I feel healthy.
Because if health –in accordance with the definition prescribed in the constitution of the World Health Organization (1946) – is "a state of complete physical, mental and social well-being and not just the absence of an illness or a disability", a person can easily understand that the meaning of health is not given only by medicine, but also by other factors such as environment, economy, work, etc, and is based solely on a feeling of well-being.

Apart from the rare landscapes and special natural beauties, nature also endowed Greece with springs with important therapeutic properties. Spas are part of the country's national wealth, while their therapeutic properties were already known in ancient times.

Natural therapeutic springs are found in many different places in Greece, and the water from specific springs differs from ordinary water owing either to its high temperature, or to the presence of rare active components.

Greece is one of the richest countries in the world in terms of natural spas. Thermal and mineral springs appear at 850 different geographical locations.

In addition to revitalising the spirit, the large number of mineral springs in Greece offers visitors an opportunity to receive treatment for chronic conditions in a natural way (hydrotherapy). Ailments like arthritis and rheumatic disorders are traditionally associated with the elderly, and therefore everyone believes that spas are for the "therapeutic" treatment of mainly senior citizens. However, the beneficial properties are much broader as they also benefit people of all ages. They start by improving appearance (concerns mainly the condition of the skin) and arrive at the more generalized feeling of relaxation and well-being.

The development of health and spa tourism in Greece has been rapid and there is to observe a significant growth of supply and service differentiation. The forms of hydrotherapy treatment applied in Greece are spa or mud therapy, drinking or inhalation therapy.
Fourteen hydro-therapeutic centres (owned by G.N.T.O.) annually treat around 100,000 persons, with 1,400,000 therapeutic treatments, while dozens of other spas operated by local authorities offer modern high-quality services to visitors. In addition, spa centers with state of the art facilities and specialized staff can be found in the majority of the five-star hotels, while other spas can usually be found in Athens or Thessaloniki.

Moreover, thalassotherapy is used as a combination of relaxation, revitalisation, recreation and healing that is achieved in the ideal climatic conditions of Greece and with the use of its excellent seawater. Natural resources are still in use but a holistic provision of body and soul is being introduced including wide spectrum of fitness and wellness products and services.

With one of the best climates in the world, with a unique variety of nature, as well as one of the healthiest diets in the world, Greece is the ideal proposal for psychological and physical health and the search for well-being!

Source:Visitgreece.gr