Mani – A Byzantine Secret
by XpatAthens
Wednesday, 18 February 2015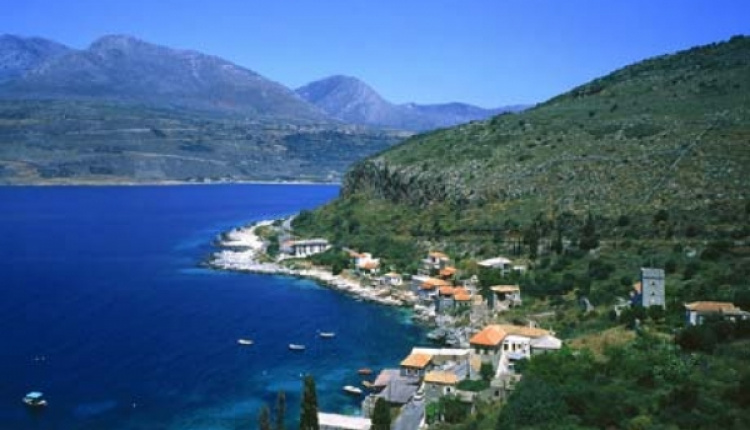 Between the districts of Lakonia and Messinia in southern Greece, Mani, the southernmost and middle peninsula of the Peloponnese, is a treasure trove of Byzantine and post Byzantine churches, Frankish castles and stunning scenery.
The isolated aspect of this beautiful area, combined with the independent nature of its inhabitants meant that some traditions developed separately from the rest of the Peloponnese and Greece so that a distinct society made its mark on the landscape. To this day the architecture of the area is famed for the tower houses and fortified family dwellings from the period of the Ottoman occupation of Greece.
Olive groves opaque with pollen, meadows carpeted with wild flowers, melting snow water gushing down mountain-sides before sinking into underground streams to reform as icy tendrils that curl about one's feet on early morning swims from empty beaches. This is springtime in the Mani. Uncluttered and pristine, it is a wild place; the people once infamous for banditry and the landscape contrasting between arid, ochreous rocks scattered with ruined tower citadels and cypress-strewn olive groves leading to the clear, blue Ionian sea.

Byzantine streets lined with castellated houses of golden stone lead to the sparkling sea. Tiny domed churches, some little bigger than beehives, pepper the hillsides, each one filled with colorful frescoes like Byzantine jewel boxes. The perilous road to the Inner Mani leads from the lush hill groves of Kardamili to a bleached splendor of rock and tower, and there are many nameless little beaches along the way.
Until recently, many Mani villages could be reached only by sea or precipitous donkey tracks. This was due in part to the topography and poverty of the area but also a strategic defense against frequent coastline attacks from invading armies, not to mention pirates. Over the centuries, homes became increasingly like fortresses and as the population grew they turned in on themselves to fatal effect.

The villages are famed for their tower houses from which rival families shot each other with cannons in vendettas that lasted generations. Shattered towers scatter the hilltops like miniature castles and the feeling of a shuttered inner-world remains in the crumbling hamlets, silent and brooding under the glare of the southern sun.
To read more, please visit ManiGuide and The Guardian