Temple Of Apollo At Bassae
by XpatAthens
Wednesday, 18 February 2015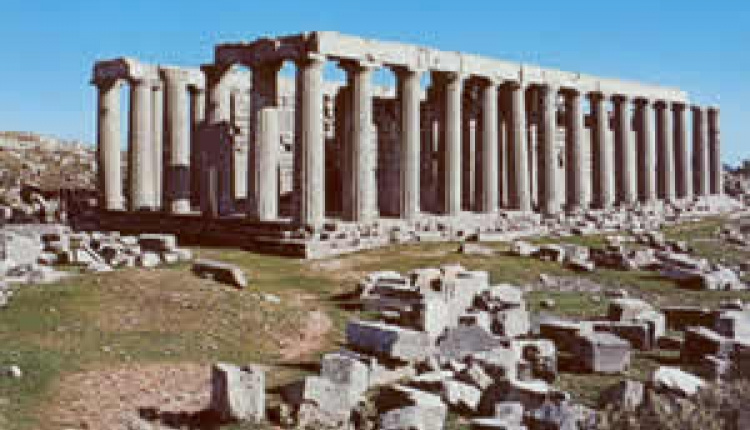 The magnificent ancient temple visible today was not the first to stand on this rugged mountain site. Excavations have shown that the foundations of the Temple of Apollo reused blocks from at least one Archaic predecessor. Artifacts from the 7th, 6th, and 5th centuries have been discovered, including some terracotta decoration. Votive offerings of many periods have also been uncovered, dating all the way back to Geometric times.
History

The present Temple of Apollo Epicurius was built sometime between 450 and 400 BC, around the time of the Parthenon in Athens. Its style seems to indicate a date prior to the Parthenon, perhaps designed 450-440 BC with a completion date around 425 BC. (Other sources date it to shortly after the Parthenon.) The ancient writer Pausanius attributed the design to Iktinos, architect of the Parthenon, but so far this has not been independently confirmed.
The temple's isolated location and unusual dedication (epikourios means "helper" or "protector") have kept scholars occupied for over 200 years. One explanation is that the villagers of nearby Figalos prayed to Apollo for protection from a plague and built the temple in gratitude for his assistance. Another theory is that Apollo was considered the protector of the Arcadians, especially mercenaries, who funded the temple.

Whatever the reason for its construction, the Temple of Apollo Epicurius was no modest, back-woods shrine. It is built on a grand scale with great precision and architectural creativity. Its combination of Doric and Ionic orders in a single structure was quite daring, and its Corinthian capital is the oldest known example in the ancient world.

The temple at Bassae remained well-preserved over the centuries, thanks primarily to its isolation. All but forgotten, it was too far up in the mountains for looting of materials to be practical anyway. The ancient ruin was not rediscovered until 1765, when the French architect Joachim Bocher stumbled on it by accident.

In 1811-12, British and German antiquarians poked around the ruins a bit and brought the metope sculptures back to their own countries. The cella friezes were bought by the British Government for £19,000 and placed in the British Museum, where they remain today.

The Greek Archaeological Society restored the temple from 1902 to 1906, re-erecting some fallen columns and restoring the cella walls. Another renovation was carried out in the 1960s, during which some fragments of the frieze were excavated.

A "temporary" protective tent was erected over the temple in 1987 that still remains in place today. It keeps out the extremes of the mountain weather, but obscures much of the architectural beauty of this celebrated Classical temple.
To get there

• Address: Off Rte. 76 and then up a 1-lane road, Bassae, 27061
• Phone: 26260/22254
• Cost: €2
• Hours: Daily 8:30-3

Source: Sacred-destinations.com