A Hidden Restaurant In Gazi With No Name
by XpatAthens
Monday, 16 February 2015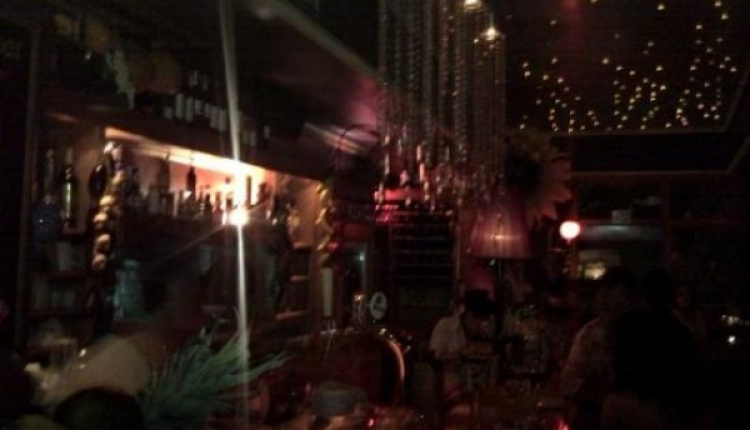 On Dekeleon at the intersection of Dekeleon and Elesidon in the neighbourhood of Gazi, is a Turkish style cafe named Bedouin. Underneath it, by way of stairs out on Dekeleon, is one of Athens' treasures. This dungeonous taverna is not in any book and opens very late in the day serving only specials each night depending on the haul from the market that day. The sign over the door is Oinomayairevetes which is the wine version of an Ouzerie however it's believed this taverna has no name.
Babis, the chef/owner says that during World War II people would go down there for shelter, good food and wine. The taverna upstairs often featured a famous singer, and a lady would play piano, which you could hear downstairs. Babis specializes in Byzantine style food of which the Politiki Salata (salad of The City/aka Constantinople) is a sublime mix of aubergine, garlic, olive oil and sour cream however it is advisable to try absolutely everything. There is no real menu, however dishes that feature include slow roasted baby lamb cooked en parchment, meatballs with stewed scallions & artichoke hearts, mashed fava beans with diced red onions, lemon juice, olive oil, and capers, a tostada-type of treat with ground seasoned meat on one half and aubergine, tomato, and a mild white cheese on the other. They only serve barrel wines but you really shouldn't be drinking anything bottled with food like this; get it by the kilo. The whole meal is so cheap it will blow your mind. So, if you can find it and manage to get a table, seek out the secret taverna that has no name but doesn't seem to need one.
Do you have a recommendation or recipe to share? Send it to us at ideas@xpatathens.com!