5 Of The Best Garden Restaurants In Athens
by XpatAthens
Tuesday, 11 May 2021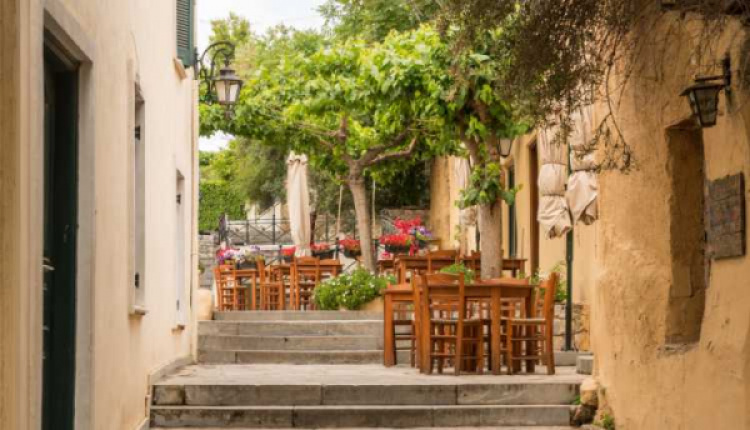 Whatever your preference in food and drinks, these restaurants in Athens serve a variety of meze-style dishes in beautiful courtyards and gardens, perfect for a quick meal and a relaxing evening with friends.


Pyroliki
This garden restaurant in Metaxourgeio offers traditional Greek food with a twist. Friendly and cozy ambiance, an atmospheric backyard, and flavors from all over Greece will travel your mind to Crete and the Greek islands. Start with delicious seafood appetizers along with a glass of ouzo, wine, or Cretan raki, and continue your meal with typical Greek dishes!
Location: 117 Megalou Alexandrou, Metaxourgeio
Telephone: 210 3420293

Rozalia
Rozalia is a great option for dinner in the Exarcheia neighborhood of Athens. It is a family-run taverna that serves grills and home-style fare. The dishes are brought around on a tray, so you can see, point and pick! Its distinctive character and beautiful garden make it an ideal destination.
Location: Valtetsiou 59, Exarcheia
Telephone:
210 3802725
Metaxou

Metaxou will make you feel just like home! Enjoy their delicious traditional greek appetizers, such as cheese pies, revithokeftedes, soutzoukakia, wine from the island of Ikaria, and occasionally live music.
Location: 10 Pithodorou, Metaxourgeio
Telephone: 210 5229290


Kouvelos
Located in the area of Koukaki, Kouvelos serves traditional Greek food in a romantic garden. Start with the deep-fried cheese pie, a specialty from Skopelos island, and end your meal with homemade hazelnut liqueur.
Location:
Genneou Kolokotroni 66, Athina
Telephone:
211 4052418

Karderina
This garden in the area of Petralona attracts many Athenians and foreigners for its exceptional greek food and mezes, its famous tsipouro, and, of course, its affordable prices!
Location:
67 Kallisthenous, Ano Petralona
Telephone:
210 3454000