7 New Restaurants Opening In Athens
by XpatAthens
Monday, 12 December 2016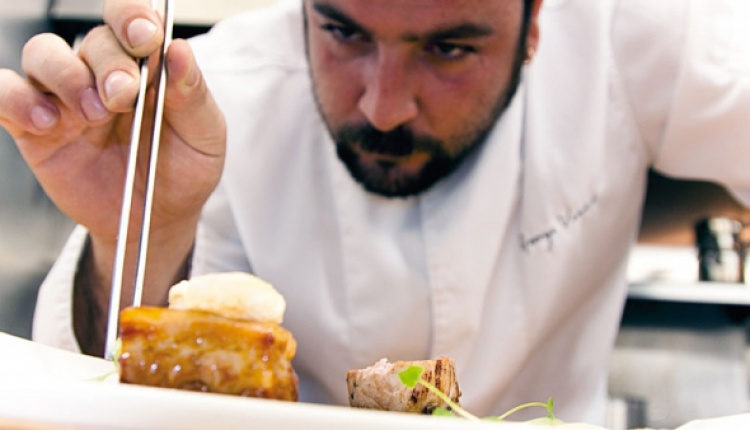 The holidays are an exciting time to try new restaurants and explore more of Athens! Here is a list of 7 new restaurants that have opened (or will open very soon!) in Athens.
Vasilainas

Address:
13 Vrasida, Piraeus
Telephone:
693 720 0217
Website
The historical restaurant of Piraeus is now opening its doors in Athens on Vrasidas Street just behind the Hilton Hotel. The place will soon be ready and we will see the impressive roof (a grid of wine bottles with optical fibers), the results of the partnership of three talented young chefs, Manos Garnelis, Dimos Balopoulos and Nikos Vlachakis. Fish and meat will coexist on the new menu, with emphasis given to the fish menu. To get an idea, the menu will include scabecheoctopus, a grilled with mashed chickpea soup, spicy tomato salad, pasta with shrimp, smoked tomato and basil, and grilled grouper with mashed beetroot.
Ommu
Omu, which means parrot in Japanese, is the old 'Oozora' in Kifissia. The upper bar will gain a new style making an autonomous Bar-Restaurant. Gourmet streetfood by George Venieris, cocktails and "lives" that are not very common in Kifissia, give a different tone to this new concept. The taste proposals will include a not so clean cut ceviche and sashimi, hot dogs, burgers with caramelized buns, and funky pizzas including duckgonzola with duck and gorgonzola.
Food Mafia Sin City
Adress:
Βουκουρεστίου 4

Telephone:
210 324 8062
Website
Food Mafia, which used to be in Glyfada, is now opening during the first week of December at Voukourestiou 4 in Athens. In cooperation with the pre-existing ground floor of the interwar building V4, Food Mafia Sin City invites people to taste Elias Skoulas style. At noon during the lunch menu, there will be a snack attack menu, inspired by his favorite American chef canteens. Customers must try Papusas, corn pies of El Salvador and toast with foie gras and grilled peaches! The menu has the aesthetic of a cult 70's American magazine.
Big Kahuna
Address: 43 Salaminos St., Kerameikos
Telephone:
693 699 8428
Website
While Big Kahuna by Stefanos Stefanidis and Dimitris Balian is being prepared to open its doors, imagine a warehouse-workshop with a huge garage door, which will open and put you in a beach bar interior: floor like sand, tables in Caribbean style and exotic plants. At Big Kahuna, the food is exotic with streetfood Hai materials. You may find ramen and fried rice in banana to Wagyu shark!
Ble Alepou Papantonis

Address:
Kifissias Av. 158 & Thomas Economou 2, New Psychiko
Bright & simple is how the next business step by Kostas Papantonis is going to be called after Prime Grill, which closes its doors this year after several years of operation. The new project will open this December and will a have bar-restaurant character, placing emphasis on wine with several Greek and foreign labels.
Ventiri


The new grill that is currently being prepared by the team of Agora Select, is likely to open its doors over the holidays. In its culinary choices, you will may find pies in foi
l like the Moscow chicken pie with smoked cheese and colorful peppers, meat pie with ground beef, vegetables and mint, all of which are baked in the oven. You can find a wide variety of dishes from bisteka Fiorentina to black pig hot dogs with caramelized onions and Black Angus skirt.
Steak Frites
Address:
Φιλελλήνων 18

Telephone:
215 500 3007
Website
At Steak Frites by ToyBox Legends, which will open in a neoclassical building on Filellinon street, the kitchen run by Kostas Tsigka suggests culinary proposals that complement pasta, risotto and lunchtime steak sandwiches.
Originally posted on
athinorma.gr
Translated by XpatAthens