A Taste Of Athens - Off The Beaten Path Restaurants
by XpatAthens
Wednesday, 18 March 2015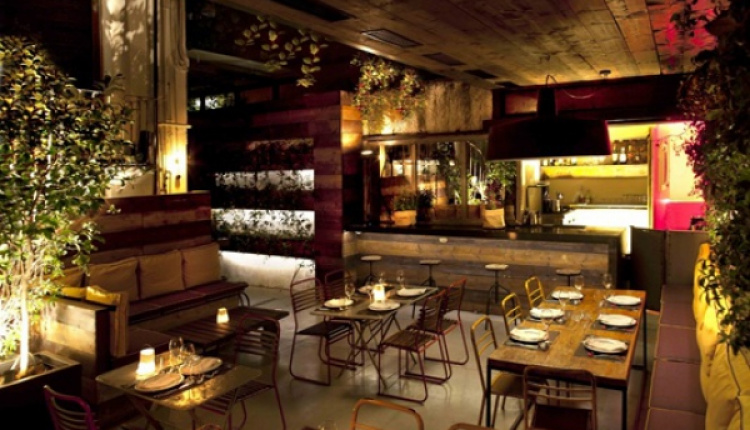 For many visitors Athens is defined by its old city quarters, flea markets, spice markets, ancient wonders and fabulous museums. Sounds like a pretty great menu… Almost spoilt for choice, but once the Plaka has been checked off the list then what? Well, I have discovered something about Athens too…..the 'undiscovered' side of her and by that I mean the local way of life that is not openly shared with tourists and visitors alike. While this city promotes her cultural delights and unique heritage I ponder on why they don't do the same for her culinary delights, electric nightlife and superb coast line.

Not to say it's a totally closed notion that people aren't aware of the beaches and restaurants but it's not a city known for its 'modern flavours'. So let's open that book and take people through it chapter by chapter. Chapter 1: Off the Beaten Path.

Here's the Athens restaurant scene, but maybe not as you know it! These places will certainly leave your tastebuds pleasantly surprised!


Kifissia
A pretty, leafy suburb located in North Athens offers more than just a stroll down it's charming streets. Don't forget to take the horse and carriage ride…..
Nea Erythraia
Cool, hip and trendy neighbourhood mostly known for its 'Little Mykonos' night vibe. Just behind the high street is a playground full of bars offering an array of nightly haunts. Low Bar is always a great starting point. Check it out!
Psychiko
Hidden little gem of an area dominated by foreign embassies and some true culinary master pieces. A neigbourhood that needs exploring.
The Albion

– Think fairy's playground lit up with warm lights snuggled with trees. The food is delectable and the outdoor bar a must for the 'trendy'.



Fish Co. Platters

– Fresh fish with organic ingredients



Κρίθαμος

[Krythamos] – Wonderful taverna serving delicious Greek produce that will leave you wanting more!!



Xoxladaki

[Chochladaki] - Delicious Seafood restaurant with scrumptious apperizers and a fantastic ouzo selection.....time to drink....Greek style!


Hilton District
Conveniently located close to the Hilton Hotel and within close proximity of central Athens.
Vezene

– Local's favorite - serving wagyu beef and a marvelous view of the Hilton Hotel. Tip: The truffle fries are to die for!


Kolonaki
In the heart of the city is the chic neighbourhood of Kolonaki, not only does Kolonaki boast prime location but also an array of great restaurants and bars. Not a foodie? Perfect! You will be in a shopper's paradise with boutique shops and high street brands galore! It's easy to get lost here and why not? You'll be doing it in style!
Inbi

– The best sushi in town! The ambience is warm and inviting and you will be sure to find the trendy Athenians here. The cocktails are also worth a try!



Malconi's

– Italian food at its finest serving up fresh produce such as meats, fish and pizzas. Make sure you request a table in their secret garden at the back of the restaurant.



Scala Vinoteca

– Tapas style bar in an attractive modern setting.


Capanna – Pizza restaurant with colorful toppings and exciting flavours.


Glyfada
Los Angeles' European replica, Glyfada is a buzzing neighbourhood with endless dining, shopping and entertainment options. From independent boutique shops to a concoction of dining madness. Something for everyone in Glyfada! [Popular with British Expats]
Vouliagmeni
Often compared to the South of France this beautiful neighbourhood not only boasts sublime restaurants and luxury hotels but the best beaches in town.
Ithaki

– fancy eating seafood overlooking the Saronic Gulf? Wedged between a mountain and Astir Beach diners get a real treat with both the beautiful view and yummy morsels on your plate both vying for your attention.



Astir Beach

– it might cost 15 EUR to enter but with service at a press of a button and sun lounges one can sink into it's worth your time and money. Other beaches I suggest: Kavouri Beach, Yabanaki Beach, Varkiza Beach & South Coast. [All located South Athens].



Lake Vouliagmeni

– Remember the natural lake I mentioned? Well prepare to be spellbound as you immerse yourself into the clean and pristine turquoise water of this hidden gem. Garra Rufa [Doctor Fish] will greet your feet as you enter the cool lake offering you a free pedicure and a sense of enlivenment. A must when in Athens!
To read this article in full, please visit: Table Salt
A big thanks to Costas Psarros from Table Salt for sharing this with us!
Do you have a recommendation or recipe to share? Send it to us at ideas@xpatathens.com!