Where To Buy Mouthwatering Pastries In Athens
by XpatAthens
Monday, 11 May 2020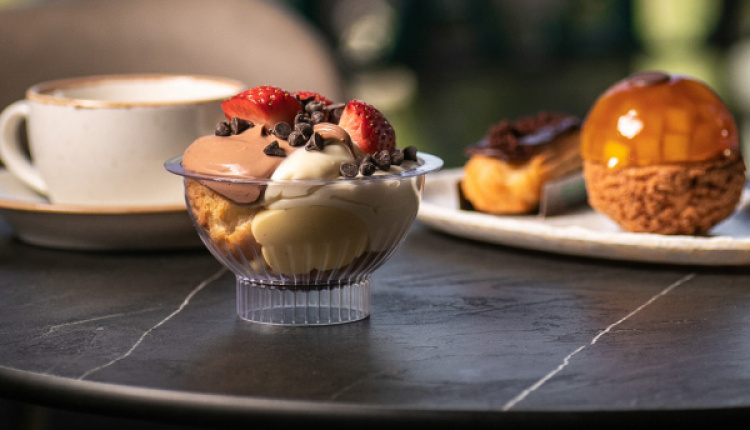 Picture this: You've just had your first souvlaki in the heart of Athens. You've strolled down a few blocks, browsed at a few shops and cafes along the way when suddenly, something has changed. You've started to crave something sweet, something to put "the cherry on top" of your day. Luckily, we've put together a list of 5 different pastry shops where you can give your sweet tooth something to remember Athens by.

1. Afoi Asimakopouli (Asimakopouli Bros)
This pastry shop dates back to 1915 and is mostly famous for its galaktoboureko, a traditional Greek custard pie baked in phyllo and drizzled with sugar syrup. This pastry shop has been located in the area of Exarcheia for more than 100 years and has used the same recipes since its establishment, keeping its products authentic and fresh. Another fact that makes this pastry shop so unique is that it is one of the few pastry shops in Greece that produces its milk from imported Dutch cows to use in their products. As far as desserts in Athens are concerned, it doesn't get much better than Afoi Asimakopouloi.
Address: 82 Charilaou Trikoupi, Athens, 106 80
Telephone: 210 3610092

2. Le Greche Gelato Alta Qualita
Le Greche Gelato is a genuinely Italian-style gelato shop, serving more than 28 different flavors of gelato and sorbets, all made from fresh milk, seasonal fruits, and 100% Greek and Italian products. Since 2014 the capital's ice-cream loving crowd has been delighted by their smooth, creamy, velvety gelato and Italian delicacies such as panettone, chocolates, and coffee! If gelato is your dessert of choice, you must try a scoop of their most famous specialty: Pistachio from Sicily. If you're in the mood for more, combine it with an extra scoop of their Stracciatella, or Baklava flavor to create the perfect combination.
Address: 16 Mitropoleos, Athens, 105 63
Telephone: 216 7006458

3. Avocado
Even though Avocado isn't technically a pastry shop, we thought our list should include a vegan dessert option for our non-dairy eaters. Apart from its excellent vegetarian menu, Acovado also serves a to-die-for raw chocolate vegan tart with avocado, coconut oil, cacao powder, sweetened with agave syrup on a date and almond crust. This tart is gluten-free, dairy-free, and sugar-free, which makes it an enjoyable and guilt-free dessert. You can either sit there and enjoy it with a cappuccino or order it to go.
Address: 30 Nikis, Athens, 105 57
Telephone: 210 3237878

4. Lukumades
Everyone loves loukoumades or, in other words, Greek crispy donuts. Loukoumades are a classic carnival treat or traditionally served at yaya's (granny's) house topped with honey, cinnamon, and nuts. At Lukumades, you can customize your serving with a massive variety of chocolate or cream fillings, spreads, toppings, and ice cream. Lukumades is a "heaven on earth" little shop that opened its doors in 2013 and has been delighting customers from all over the world ever since; even Prince Charles of Wales and Duchess Camilla visited Lukumades during their visit to Greece in 2018! Quite the historic visit, for a popular dessert!
Address: 21 Eolou & Aghias Irinis, Athens, 105 51
Telephone: 210 321088

5. Choureal
We have saved the best for last. Everyone loves a good old bowl of profiteroles, but have you ever been able to modify it to your liking? Well, at Choureal, you can! Choureal first opened in Thessaloniki in 2014 and spread its magic to Athens in 2019. This little pastry shop has been the talk of the town for its unique concept and mastery in choux pastries. Everything they make is "à la minute," using top-quality ingredients, such as Valrhona chocolate, fresh dairy butter, and milk to make their crème patisseries and many other fillings. Choose your filling, and extra toppings to make your very own profiteroles, eclair, simple cream-filled choux pastry! At Choureal, your sweet tooth will be more than satisfied..
Address: 2 Diomeias, Athens, 105 63
Telephone: 210 3317883
This content has been sourced and prepared by Codico Lab