Enjoy An Athens Culture Trip From Home
by XpatAthens
Friday, 13 November 2020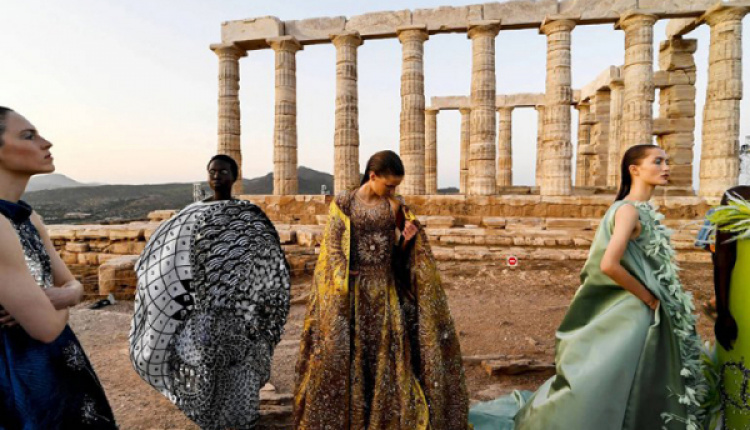 A curated guide to experiencing Athens' dynamic cultural life on-line—whether you want a full day fix, a half-day holiday, or just an hour's escape.

Theatre, art, wine and song. Athenians have been culture-mad since antiquity. While we stay on the sidelines for the greater good, culture is one of the best escapes still left to us. From virtual museum and gallery tours to contemporary stage productions and feel-good concerts, here's our constantly updated armchair guide to the best on-line arts and entertainment that cultured Athens has to offer for those times when you can't get here yourself. Best of all, it won't cost you a cent.
History At Home

Skip back through the millennia to learn about Health, illness and treatment in Ancient Greece in the Museum of Cycladic Art's digital classroom as part of their new Home Activities platform. What could be more timely? Just a few clicks more and you'll fall under the spell of filmmaker Georgis Grigorakis' hypnotic contemporary video sculpture as he depicts hyper real Aegean seascapes, inspired by timeless Cycladic Art. It's also part of the Museum of Cycladic Art's Home Activities series.

Get a jump start on your next Athens city break with a digital stroll through more of our riveting museums. Thanks to the Google Arts & Culture platform, you can eyeball ancient marvels like Pheidias' 5th century BC Parthenon sculptures in high-definition detail on a virtual visit to the world-famous Acropolis Museum.

Next, snoop around all four of the Benaki Museum's sites on 360 degree virtual tours. Start from the flagship Benaki Museum of Greek Culture which offers a one-stop panorama of Greek history from prehistoric times, and end with the stunning exhibits of the Benaki Islamic Art Museum collection. Bone up on your art education with Hellenic Together, and hear video talks about everything from wedding rituals in Classical Greece to the charmed 20th century lives of British grecophiles Patrick Leigh Fermor and John Craxton.

Affairs Of The Art

Step inside the mind of American art superstar George Condo as he leads a fascinating video tour through the light-filled spaces of the Cycladic Museum and explains how these ancient wonders inspired his recent collection.

Dive into the Neon Art Foundation's colourful video bank and watch Athens-based dialogues with famous international artists who've staged recent projects in the Greek capital like Michael Landy and Lynda Benglis.

Ogle at one of the world's most astounding private art collections (including a 1580s El Greco). The Basil and Elise Goulandris Foundation has uploaded a virtual exhibition of 198 masterpieces on display at their new Pangrati gallery. Flit between Van Goghs, Rodins and Picassos and give yourself a crash course in the leading lights of modern Greek art as well (such as Parthenis, Tsarouchis, Moralis and Tetsis). There are detailed descriptions and background to each work in English.

Soak up Athens' red-hot street art scene with our slideshow gallery of the city's most loved murals, such as WD's piercing, all-seeing owl in Metaxourgio or the Praying Hands of Pavlos Tsakonas that descend God-like over Pireos Street.

Opera lovers and drama queens of all ages can roll back the clock with the Greek National Opera's immersive photography archive of productions, spanning the last 80 years. Worth it for the incredible costumes alone!

Take a crash course in what to see (and why) at Greece's new contemporary art temple EMST - then listen to the gallery staff talk about their favourite exhibits in English here. Or take the temperature of Athens' hottest emerging art hub, Piraeus, with a virtual tour of new art space, Carwan gallery.

Contemporary & Alternative Culture

For the ultimate escapism, grab a front row seat at the history-making fashion show of Greek designer Mary Katrantzou, staged last year at Poseidon's mighty temple at Cape Sounion, with an original score by the legendary Vangelis.

From digital dives down black holes, to an immersive new world of BioArt, glimpse a future where art meets science as trippy visual arts platform, Athens Digital Arts Festival (ADAF), broadcasts live highlights for both adults and kids. Tune in on their ADAF Live YouTube channel.

From sold-out shows and virtual cinematic experiences to secret concerts, the Onassis Stegi has launched a brilliant free library of content through its We Stay Close, Not Closed showcase (some of it never before seen). New content is made available every week but here are some current highlights:

• In these dystopian days, what could be more cathartic than tumbling down the rabbit hole with the scriptwriter who lit the spark for a new golden era of Greek Cinema with Dogtooth and The Lobster? Get lost in Efthimis Filippou's bizarre Emata (Bloods), a performance-concert about our open wounds that's ripe with oddness and black humour (Greek and English sub-titles available).

• Hear hot New York author Daniel Mendlesohn riff on the Narcissism of Homoerotic Relationships or Hollywood star Paul Giamatti ponder Narcissus and Acting in front of a live audience.

• Dose up on the exquisite melancholy of Rebetika: The Blues of Greece as Lena Kitsopoulou and her band of traditional Greek musicians transport you to the backstreets of Athens and Piraeus from Joe's Pub in New York.
---
Whether you've just arrived in town – or have been here for years – Athens always has new secrets to share!
This is Athens
is the official guide to this captivating city of ancient energies and booming urban culture. Compiled by a team of specialist local writers, This is Athens brings you an authentic and intimate portrait of a living Athens beyond the guidebooks – along with daily curated listings of all the best events and great weekend inspiration all-year round. From must-know neighbourhoods and emerging art hubs, to gourmet hotspots, cool shopping and the buzziest bars, This is Athens will help you to get the most out of living in Athens!