Pomegranate And Onion: A Greek New Year's Lucky Charms
by XpatAthens
Tuesday, 29 December 2020
On the first day of the New Year, in many Greek homes, the new year is welcomed by opening a pomegranate or hanging an onion on the front door. Both traditions mean good luck for the year to start.
The Pomegranate

In Greece, it is also common to receive a pomegranate as a gift (in Greek ; rodi - ρόδι), made of metal, glass or other materials, to bring good luck for the new year. This tradition goes back to Greek history, as well as to other ancient cultures.
The Pomegranate In Greek Mythology

This beautiful red fruit was a symbol of fertility and rebirth in ancient Greece. Many goddesses had it as their symbol: Hera, the goddess of marriage, Aphrodite (Venus) the goddess of beauty and Persephone, daughter of Demeter, who brought the spring while also being the Queen of the Underworld.


The Greek myth that connects Persephone with the pomegranate is wonderful. After her abduction by Hades, she had to return up to earth, close to her mother, Dimitra, to revive the withered and frozen earth. Hades gave her a few pomegranate seeds so she would not forget him! She gladly accepted them, and that way remembered to return close to her husband and her kingdom.
The Onion – A Greek New Year's Lucky Charm!


In Greece, it is an old tradition to hang an onion on the door with New Year, to bring luck and health.

From ancient times until now this onion-like, wild-growing plant has been a symbol of fertility and purification. Onions are viewed as highly fertile because the bulbs seem to want to sprout, even if they are being left alone. When it is out of the ground, kept in a shady corner of the house, it still grows leaves. Therefore, the onion is a symbol of fertility and is hung on a door in the household – to help the people grow and experience a rebirth of their own in the coming year.
We hope both the onion and pomegranate will bring you good luck for the new year.
---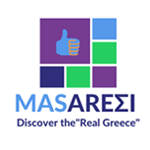 About MASARESI
Masaresi.com was founded by Maya Cornelissens-Andreadi, who shares her experience about how "to integrate in Greece and feel like a local". Masaresi = μας αρέσει = we like it! Discover the "real Greece," while delving into all the aspects of Greek life – from modern lifestyle and culture to history, literature, traditions, and many more.

Explore Greece - Read About Greece - Buy Greek - Learn Greek