The Electric Car Of Syros Island
by XpatAthens
Sunday, 08 August 2021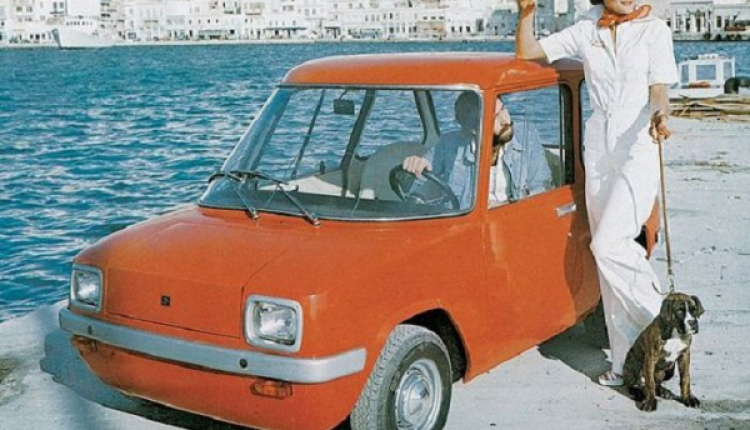 It may be that nowadays the electric car makes quite the impression and is funded by big industrial firms, but in Greece, it was already constructed for the first time 45 years ago!
The electric car is hosted in the industrial museum of Syros. The car was built in 1973 in an old mill building close to the Neorion yard of Ermoupolis, the capital of Syros.
This electric car is the model Enfield 8000, an innovation at the time when the problem of air pollution had made its appearance in the big cities. At the same time, the concern related to oil stocks and dependence on them also grew big. It seemed that an electric car would solve many problems.
History of the electric car of Syros island
The car's history began in the late 1960s. The company Enfield Automotive, based in the Isle of Wight of Great Britain and owned by the Greek John Goulandris (a member of a large shipowner family), won a competition for a contract with the Council of Electric Energy of England. Shortly before the start of the production of the car, Goulandris encountered technical problems with the Isle of Wight and so decided to move the factory to Syros. It was a risky decision, as the island of Syros had a long tradition in shipbuilding but no relation to the manufacturing of cars, let alone electric. However, it seems that the outcome vindicated Goulandris. The designer of the electric model was George Michael. The construction involved men from the yard, engineers, craftsmen from Syros, Piraeus, and many other places around Greece. It was a truly Greek affair.
To celebrate the history of the first electric car in Greece, a documentary was filmed, titled "A tale of two Isles", directed by Michael Stavropoulos (Director of the magazine for cars). One day Michael Stavropoulos went to Syros to try a modern electric car. On this occasion, he was introduced to the Greek story of the electric car, talked with people involved in the construction, and finally made a movie about the Enfield 8000.
To read this article in full and discover more about the Enfield 8000, please visit:
omilo.co
---
Omilo Greek Language and Culture inspires people from all over the world to learn Greek, while exploring Greece. They offer 1- and 2-week courses for adults that combine beautiful course locations, experienced teachers, and a balanced combination of Greek classes with cultural activities. All these make Omilo a place where people enjoy learning modern Greek and have fun.

Besides the courses, Omilo also creates online publications to help adults expand their language skills through Language Books and eBooks for different language levels.