Eggnog With A Greek Twist
by XpatAthens
Wednesday, 21 December 2022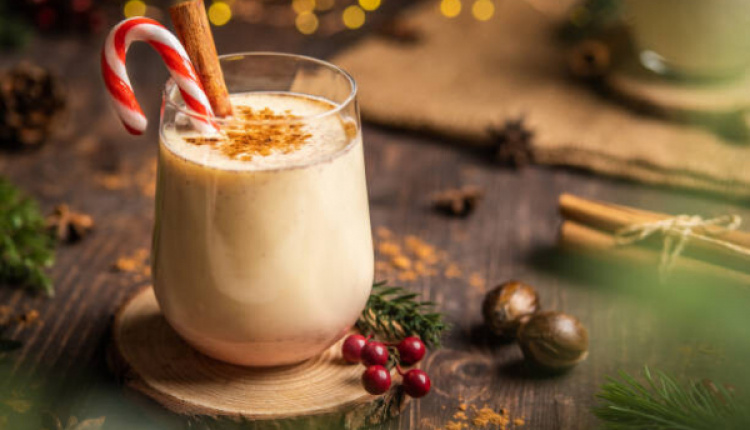 Greeks don't do eggnog for Christmas, but why people around the world drink this yellow-cream Yuletide drink?
How did the drink and the Christmas holiday hit it off so that the concoction of eggs, milk, and booze become a tradition?
Culinary historians debate the exact origins of the drink, but most agree that eggnog originated in early medieval Britain from the 'posset' – a hot, milky ale. In the 13th century, monks would drink posset with eggs and figs. The word 'nog' comes from 'noggin' – a wooden cup or 'grog', a strong beer. However the combined term, 'eggnog' stuck around the late 18th century.
It makes sense that milk, eggs, and sherry – foods of the wealthy – would be saved for Christmas to toast prosperity and good health.
However, colonial Americans truly lifted the drink. It is made of ingredients available to them all year round, however, they may have considered Christmas the best occasion to break out the spirits.
Here is a Greek version of the holiday drink by chef Philip Vakos.
6 large eggs, plus 2 yolks
1/2 cup, plus 2 tablespoons sugar
1 teaspoon of ground mastiha
1/4 cup of skinos mastiha liquor
1 tablespoon vanilla extract
1/2 teaspoon grated nutmeg
1/4 cup heavy cream, whipped to soft peaks
Grated nutmeg for garnish
1. Combine eggs, egg yolks, sugar, mastiha, and salt in a heavy pan, whisking until well combined. Continue whisking while pouring milk in a slow, steady stream until completely incorporated. Turn on the burner to the lowest possible heat setting. Place pan on burner and stir mixture continuously until an instant-read thermometer reaches 90°C and the mixture thickens enough to coat the back of a spoon. This should take about 25 to 30 minutes.
2. Strain the mixture through a fine sieve into a large bowl to remove any accidentally small cooked bits of egg. Add Metaxa and mastiha liqueur, plus vanilla extract and nutmeg. Stir to combine. Pour into a glass pitcher, decanter, or container and cover with a lid or plastic wrap. Refrigerate this egg custard mixture to chill for at least 4 hours or up to 3 days before finishing.
3. When ready to serve, pour heavy cream into a bowl and whip until it forms soft peaks. Fold whipped cream into the cold custard mixture until combined.
4. Serve in chilled cups or glasses and garnish with a sprinkle of nutmeg.

Originally published on: neoskosmos.com