Diples - Greek Honey Rolls Recipe
by XpatAthens
Monday, 19 December 2022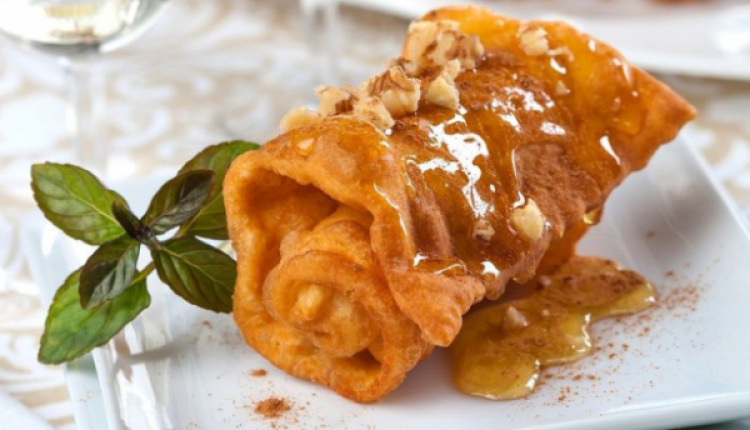 Christmas on a platter, drizzled with honey syrup and topped with chopped walnuts! Diples get their name from the Greek word for "fold" and are a traditional Greek honey pastry dessert that is very popular around Christmas time throughout Greece. They may be rather challenging to make, but you have to give them a go!
Ingredients

2 flat tbsps sugar

2 flat tbsps baking soda

350–400g all-purpose flour

5 eggs (divided into yolks and whites)

juice of 1 lemon

juice of 1 orange

1 tbsp white wine vinegar
1/2 cup corn oil
a pinch of salt
vegetable oil for frying
For the syrup
1/4 of a cup sugar
1/4 of a cup water
1/2 cup honey
juice of 1/2 lemon
1 cinnamon stick
150g chopped walnuts, for garnish
Cooking Instructions

1.
Place the egg whites into the bowl of the electric mixer, along with a pinch of salt. Whisk the egg whites until the mixture is very thick and glossy.
2.
Add the egg yolks one at a time, whilst mixing. In a cup add the orange and lemon juice and baking soda and blend, until dissolved, and pour in the egg mixture. Add the white wine vinegar and the sugar and mix.
3.
Pour the mixture in a large bowl or basin and sift in the flour; add the oil and knead the dough using your hands, until smooth and elastic.
4.
Separate the dough into four pieces, cover with some plastic wrap and let it rest for 30 minutes.
5.
Using a rolling pin, roll out each part of the dough into thin rectangle sheets.
6.
Using a rolling cutter, cut the rolled-out dough into rectangular pieces or square pieces. Heat the oil in a large frying pan, and deep fry the diples in batches of 3-4 at a time, pushing them down with a fork and flipping their sides until colored.
7.
Prepare the syrup for the diples. Pour in a pot all the syrup ingredients and bring to a boil; boil for 5 minutes, until the sugar has dissolved.
8.
Place the diples on a serving platter and drizzle with the syrup (or if you like them extra syrupy, soak each one in the syrup for a few seconds). Sprinkle with ground walnuts and cinnamon.
To read the recipe in full and discover another, more traditional but a bit harder way to make the diples, please click here:
mygreekdish.com