Prassopita: Leek And Feta Pie
by XpatAthens
Tuesday, 02 March 2021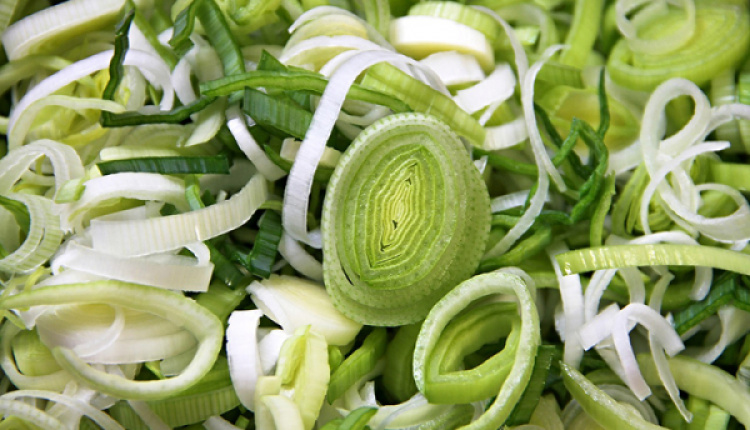 Leek and feta pie is one of the most delicious pies in Greek cuisine. It is easy, flavoful and packed with leeks, herbs, and delicious feta cheese. Master spreading the phyllo pastry and you're good to go for this and other delicious pies!


Yield: 12 servings
Difficulty: Easy
Prep Time: 20 minutes
Cooks in: 90 minutes
Ingredients

• 1 kilo leeks
• 2 onions
• 4 tablespoons olive oil
• 3 sticks celery
• 1 garlic clove
• salt
• pepper
• 3 spring onions
• 1/2 bunch mint
• 1/2 bunch dill
• the zest of 1 lemon
• lemon juice, of 1/2 lemon
• 300 g feta cheese
• 1 egg
• 700 g phyllo pastry
• 100 g olive oil, for brushing
Preparation

Preheat oven to 160 C (320F) Fan.
Place a pot of water over high heat. Add salt and bring to a boil. Chop the leeks into 1-2 cm rounds and add them to the pan. Let them boil for 2-3 minutes to remove the bitter taste that comes from the green part of the leeks
Drain and place the same pan over high heat. Let it get hot. Coarsely chop the onions. Add 4 tablespoons of olive oil to the hot pan. Add the onions and leeks and sauté. Chop the celery into rounds, mince the garlic and add both to the pan.
Season with salt, stir often and sauté for 10-15 minutes until they caramelize nicely. Transfer the sautéd vegetables to a bowl and add finely chopped spring onions, mint, and dill. Add the pepper, lemon zest, and lemon juice.
Crumble the feta cheese with your hands and add it to the bowl. Finally, add the egg and mix until all of the ingredients are completely combined.
To learn how to use phyllo pastry to complete this recipe, please visit:
akispetrtzikis.com