Revithia Sto Fourno / Baked Chickpeas
by XpatAthens
Tuesday, 23 February 2016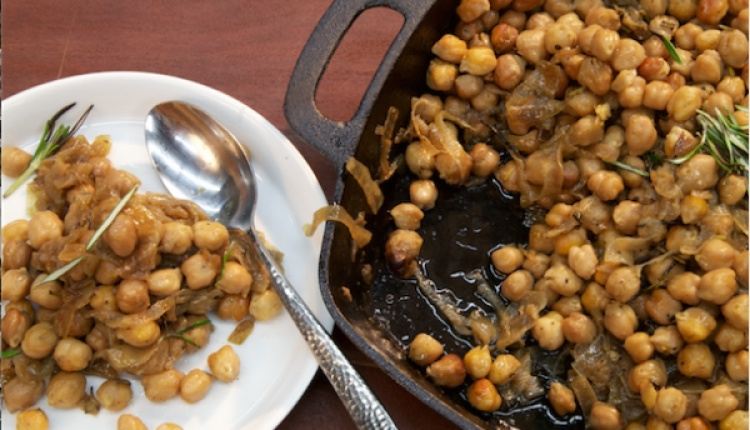 Revithia sto fourno, baked chickpeas, is something everyone MUST make at least once – it's just that good. Using only five of the most ordinary of ingredients, this positively perfect authentic, rustic peasant dish is a cinch to make for the modern home cook.


Two big time-savers include subbing in canned chickpeas (good quality, of course) for dried and making your caramelized onions up to 4 days ahead. Fresh chopped rosemary, olive oil and salt/pepper round out your shopping list for this one so seriously, give it a try – YOU WILL NOT BE DISAPPOINTED.


Of course, when you have the time, it's always good to start with dried beans and boil your own so I've included the boiling directions below. As I mentioned above though, it's absolutely acceptable to substitute canned chickpeas here. Either way you go, remember to RESERVE either 2 cups of boiling liquid or 2 cups of the canning liquid to use in the recipe. It helps give an really nice, extra creaminess to the beans.


And caramelizing the onions is easy to do especially with the oven method shared here. It's honestly just a matter of setting aside the time to peel and slice the onions. The amount written may seem like more than you need but the thing is the onions really shrink down to a fraction of their original volume. Their sensational sugary, golden brown goodness infuses right into your chickpeas while they're baking so they're a KEY ingredient here. Just jump right in, start with one onion and they'll just fly, you'll be finished in no time!


Ingredients
1 pound dried chickpeas (soacked and boiled until tender) or four 15oz cans
1/2 cup olive oil
2 cups reserved boiling liquid from chickpeas, or liquid from can
1 tbsp dried chopped rosemary
2 tsp salt
2 tsp fresh ground black pepper
2 1/2 cups caramelized onions
To read more, and to discover how to make Revithia sto Fourno, please visit:
The Greek Vegan