Souvlaki With Gyros Wrapped Pita Breads With Pork & Tzatziki
by XpatAthens
Tuesday, 24 November 2015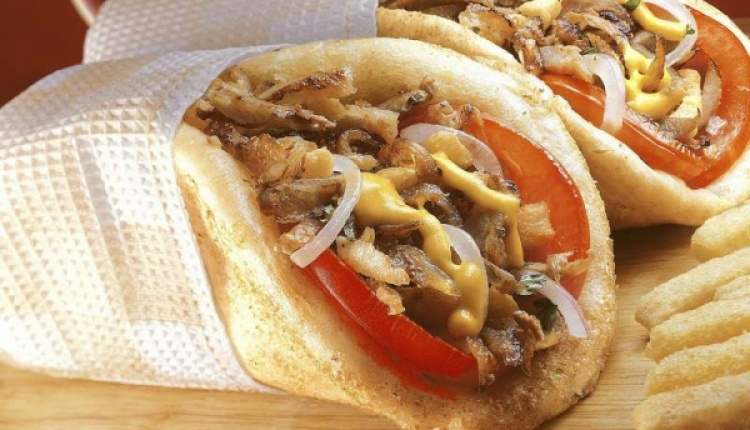 Souvlaki is one of the most popular street foods in Greece and for good reason. Its stuffed with well cooked and seasoned meat, garnished with a cooling tzatziki sauce, wrapped in a delicious crispy pita and best of all? It tastes like heaven! Souvlaki stands for "meat-on-a-skewer", however the majority of Greeks and especially those from Athens call any type of pita wrapped meat a souvlaki, specifying the type of meat and method of roasting separately. For example Souvlaki with Pork Gyros or Souvlaki with Chicken Skewers etc.


This souvlaki recipe can actually be a very healthy dish if prepared the right way. By using good quality pork for your pork gyros, low fat yogurt for the tzatziki and avoiding dipping the pita in oil and frying but opting for a healthier baked version instead you can have the full-blown souvlaki with pork gyros experience in less than 270 calories – yes that is less than your average sandwich! That being said, if you feel a little naughty add some extra virgin olive oil to your souvlaki with pork gyros and enjoy a more street-food like experience.


Homemade souvlaki recipe – Preparing the pork gyros
The most important step in making the perfect, traditional Greek pork gyros souvlaki is nothing else but the pork! Select good quality pork meat, preferably slices of tenderloin and season with a selection of Greek spices like oregano, thyme, garlic and onion. The secret ingredient in this traditional Greek pork gyros recipe is adding a tiny bit of honey and vinegar to the marinade to break the intense pork meat texture. Marinading your pork gyros in the fridge for at least a couple of hours will allow the spices to infuse the gyros and give it the desired aromas.


Preparing your traditional Greek souvlaki
The best way to serve your traditional Greek souvlaki with pork gyros is nothing other than wrapped in a delicious traditional Greek pita. Finding the original Greek pita can be quite challenging as most supermarkets stock only the arabian style ones but you can most likely find them at your local Greek deli. Of course tzatziki is the preferred sauce to garnish with. Don't forget to garnish with some salt and paprika, sweet or spicy if you like an extra kick. Most Greeks enjoy their traditional Greek souvlaki with some potato chips stuffed in the pita so feel free to try adding some as well.