Vouliagmeni Neighborhood Guide
by XpatAthens
Sunday, 18 July 2021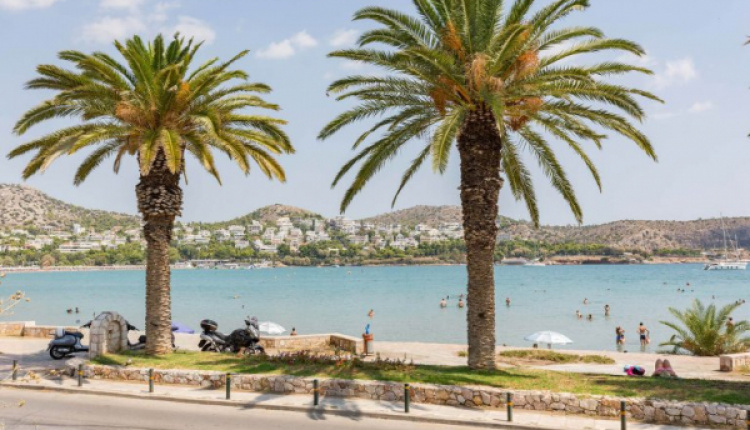 Sitting pretty on the south-western foot of Mount Ymittos, about 40 minutes from the city, this luxe resort town has a year-round tropical vibe and is to Athens what Cannes is to the Cote d'Azur.
Palm trees, fountains, and sunny beds of marigolds line Athinas Avenue, heralding your arrival at this most self-aware of southern suburbs whose main game is leisure. Kostis Georgiou's bright zoomorphic sculpture Equus accentuates the near-constant blue of the sky and the sweep of Vouliagmeni Bay, with its luxury yachts and members-only nautical clubs and marinas.
Vouliagmeni still falls rather short on culture and shopping, but it does flaunt Athens' comeliest free and paid beaches and finest seaside dining. Along Fleming Street (the area's Millionaire's Row) and in verdant Kavouri you'll find some of the capital's priciest real estate. On summer weekends, when this coastal enclave swells with tourists and townies seeking a city reprieve, locals have learned to avoid their own beaches and artisan ice cream parlors. Here's a look at what to experience in this southern suburb of Athens.
Vouliagmeni Lake
Almost hidden from view behind Posidonos Avenue is the beautiful sunken cavern of Vouliagmeni Lake, which lends this southern suburb its name (Vouliagmeni means "sunken" in Greek). Open year-round, the lake is actually a flooded limestone cave, lined with tawny cliffs and fed by underground mineral currents that stay a constant 24° C. Many gripe about the hefty entrance fee (currently €12 on weekdays, €15 on weekends). But wading through the brackish grottos, with tiny blackfish (kalogries) nudging your toes, conjures the feel of an exclusive spa. The lake is flanked by luxuriant lawns and sunbeds and there's an all-day restaurant that hosts gastronomic evenings (spring to autumn), accompanied by live jazz and orchestral performances, under the illuminated rocks.
Swimming in Vouliagmeni
Elegant Vouliagmeni is more democratic than first impressions suggest: you'll find all bases of beach covered here. High rollers head to the famous Astir on the lush pine-clad peninsula of Mikro Kavouri. Once the summer playground of Jackie Onassis and Bridget Bardot, Athens' most expensive beach offers manicured sands, waiter service to your lounger, designer boutiques, and fine dining. Central Akti Vouliagmeni, where Posidonos and Apollonos converge, is one of the city's best-groomed municipal beaches and a multi-tasking oasis that caters to all. For €5 entry, you have access to sun loungers, wide grassy strips for picnics and ballgames, tennis and volleyball courts, cafes and a playground, plus an aqua inflatable park.
Locals like to swim for free from the rocky piers outside of En Plo café or Sardelaki. Both provide access to the clear waters of the Vouliagmeni basin. Also free, Limanakia Vouliagmeni is the most popular of a run of rocky coves off the coastal road, just outside of Vouliagmeni. Bronzed locals chill out to music on a sociable deck before leaping into the deep blue sea. Grab a seaside perch at Sardelaki on Vouliagmeni Bay and watch the boats roll in.
Big Crab and Little Crab - Kavouri
Vouliagmeni's western half, from Athinas Avenue to the sea, is arguably the postcode's prettiest face. It takes in the two, adjoining pine-covered peninsulas of Megalo and Mikro Kavouri (Big and Little Crab) and is host to lavish villas, unsullied swimming coves, the iconic Four Seasons Astir Palace Hotel, scenic seaside promenades, and the picture-book chapel of St. George. It's here that you'll find Vouliagmeni's most revitalized pulse. One of Athens Riviera's most popular promenades, the paved seafront path that starts just after Lasithi Café on Iliou Street, has been spruced up with new greenery and fresh eateries in place of the slightly seedy shacks of old.
Further down on Iliou, opposite the Divani Apollon Palace, established sunset haunt Garbi has been joined by the chic and breezy Agora Riviera (another recent refit of a once tired venue). But last summer's talk of the town was the Margi Hotel's new beach club, Krabo by the Sea, a high-aesthetic (and high-cost) outpost on stunning Koska Bay with canopy sunbeds, a resort wear boutique, and on-the-sand fine dining.
To read this article in full, please visit:
thisisathens.org


Photo Credit: Manos Chatzikonstantis
---
Whether you've just arrived in town – or have been here for years – Athens always has new secrets to share!


This is Athens
is the official guide to this captivating city of ancient energies and booming urban culture. Compiled by a team of specialist local writers, This is Athens brings you an authentic and intimate portrait of a living Athens beyond the guidebooks – along with daily curated listings of all the best events and great weekend inspiration all-year round. From must-know neighbourhoods and emerging art hubs, to gourmet hotspots, cool shopping and the buzziest bars, This is Athens will help you to get the most out of living in Athens!