Unusual Museums In Athens
by XpatAthens
Wednesday, 14 July 2021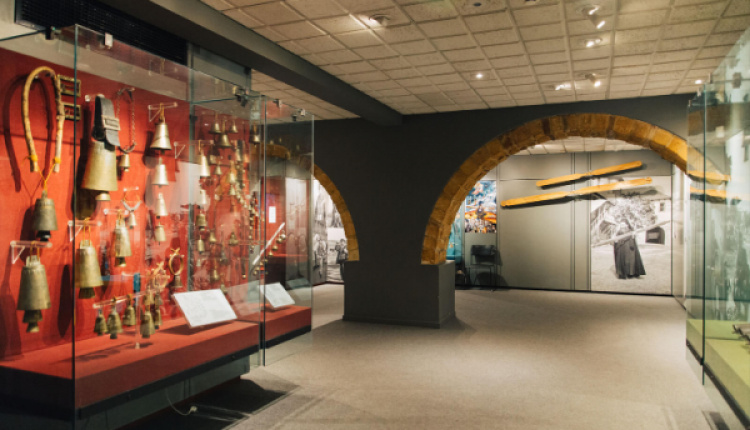 While we're all about the big museums and historical sites in Athens, we also love to go off the beaten path and find something a little unusual. Fortunately, there are plenty of options. If you're a jewellery lover, you can't miss the Ilias Lalaounis Jewellery Museum. To learn more about musical instruments in Greece, including the bouzouki, you can head to the Museum of Greek Folk Musical Instruments. And to get a better understanding of modern Greece's political history, try the Political Exile Museum.
Museum of Greek Folk Musical Instruments
Music has shaped Greece's cultural heritage almost as much as marble. This melodic museum contains about half of the 1200 musical instruments amassed over decades by its founder, Fivos Anoyanakis. They're tucked away in a glorious mansion in Plaka's backstreets, with a garden inhabited by two colossal tortoises. Inside, you'll find unexpected additions like the semantron, a long plank accompanied by wooden hammers or bells to call monks to prayer. By pressing a button, you can hear the instruments played through headphones. Upstairs is Greece's most famous instrument: the bouzouki, which played a starring role in the works of legendary composers Mikis Theodorakis and Vassilis Tsitsanis. The bouzouki still thrills modern-day audiences at the city's many rebetiko joints, usually accompanied by amplified beats, trays of gardenias to fling in appreciation at the players and singers, and copious amounts of whisky.
Ilias Lalaounis Jewellery Museum
The perfect museum for those who prefer their history lessons to sparkle. In a handsome building that once served as the workshop of Ilias Lalaounis, a Greek jeweler to the stars, this museum tells the story of adornment through the ages. The glittering collections are based on motifs and artifacts from the Stone Age, the Minoan civilization, and Byzantium, all the way to the 20th century. The most eye-catching items are the massive gold pieces, almost like armor, displayed on life-sized mannequins: huge circular plates dripping with gold discs, and a thick serpent twined from neck to breast. But it's in the foyer that you'll find this museum's rarest showing: a fully functioning artists' studio, where resident goldsmiths and silversmiths follow traditional techniques, including Lalaounis' trademark practices of hand-hammering, hand-weaving, filigree 'embroidery' and granulation.
Hellenic Motor Museum
Not renowned for its automotive tradition, Greece might seem an odd place for a motor museum. But there are many super-car collectors in Greece, many of them ship-owners with a penchant for sleek, fast-moving machines. One such magnate is Theodore Haragionis, whose car collection got so out of control that he created a museum to house it. Parked on three levels is a rotating display from his 300-strong collection, divided into antique, veteran, vintage, classic, and contemporary. Everything from horseless carriages and a Model T Ford (the first 'real' car) to a fleet of flame-red Ferraris. There's also a small section devoted to models from the little-known and short-lived Greek car industry. Petrolheads of all ages will love it.
To read this article in full and discover even more unique museums in Athens, please visit:
thisisathens.org
---
Whether you've just arrived in town – or have been here for years – Athens always has new secrets to share!


This is Athens
is the official guide to this captivating city of ancient energies and booming urban culture. Compiled by a team of specialist local writers, This is Athens brings you an authentic and intimate portrait of a living Athens beyond the guidebooks – along with daily curated listings of all the best events and great weekend inspiration all-year round. From must-know neighbourhoods and emerging art hubs, to gourmet hotspots, cool shopping and the buzziest bars, This is Athens will help you to get the most out of living in Athens!