Visit The Acropolis Museum
by XpatAthens
Wednesday, 18 February 2015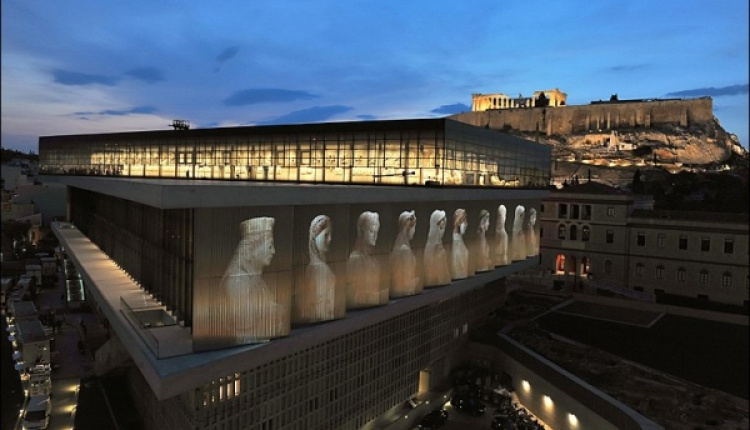 The Acropolis Museum opened in June 2009. Designed by the internationally acclaimed Bernard Tschumi in collaboration with Greek architect Michael Photiadis, the new museum is a great step up from its former premises, which resembled something like a shed atop the ancient citadel. Visitors to the 14,000-square meter state-of-the-art building can observe around 4,000 artifacts while looking up toward the Parthenon itself. The museum offers excellent views of the Acropolis and visitors can also see archaeological findings unearthed during the building's construction, covered by glass for their protection.
The program 'A Day at the Acropolis Museum' invites visitors to spend a day at the Museum enjoying a range of activities.

Stroll through the Galleries
Take a stroll through the exhibition and speak to a museum archaeologist host available to answer any questions or queries you have. From the second floor balcony see a special and unexpected view of the Archaic Gallery. Visit the Parthenon Gallery on the third floor with its unique views of the Acropolis.

Conserving the Caryatids
The Acropolis Museum has commenced the conservation and restoration of the Caryatids, the Kore from the south porch of the Erechtheion temple. Visitors have the opportunity to watch conservators do the delicate work of cleaning the Caryatids with advanced laser technology.
Family Backpacks
The Museum invites families to search for the 12 different representations of the Goddess Athena amongst the exhibits of the permanent collection. Families can borrow a family backpack from the Museum's Information Desk by leaving an identification card. Backpacks are available on a first-come first-serve basis.

Gallery Talks
Brief presentations by Museum Archaeologists-Hosts are held in Greek and English every Friday, Saturday and Sunday.

Film
Visitors can learn more about the Parthenon sculpted decoration from a video projected on the third floor at the entrance to the Parthenon Gallery.

Eats and Treats
The Museum invites visitors to have a meal or refreshment at the second floor restaurant with panoramic views of the Acropolis (children's menu available). On a fine day visitors can sit outside on the restaurant balcony. A small café is also available on the ground floor offering views to the archaeological excavation below the Museum.

Reading Area and Wi-Fi
The Museum offers the reading area with free wi-fi internet access on the second floor outside the restaurant. Visitors can browse through books relating to the Parthenon, relax or use their laptop.

Museum Gifts
Treat yourself to a small memento of your visit or one for friends and family. Select a gift from the wide range of goods available from the Museum shops. Find books in the second floor shop and gifts and stationary on the ground floor.
Friday Nights at the Museum
Every Friday the Museum is open until 10 p.m. every Friday and the restaurant is open between 8 p.m. and 12 midnight serving a special menu, beautiful night views of the Acropolis and great value for money. For reservations, please contact the restaurant during Museum opening hours on +30 210 9000915.

Museum Contact Info:

15 Dionysiou Areopagitou,
Acropolis, Athens
Tel: 210-9000900

Website: www.theacropolismuseum.gr

Source: Breathtaking Athens and Acropolis Museum