6 Organized Beaches In Athens To Visit This Summer
by XpatAthens
Wednesday, 21 June 2017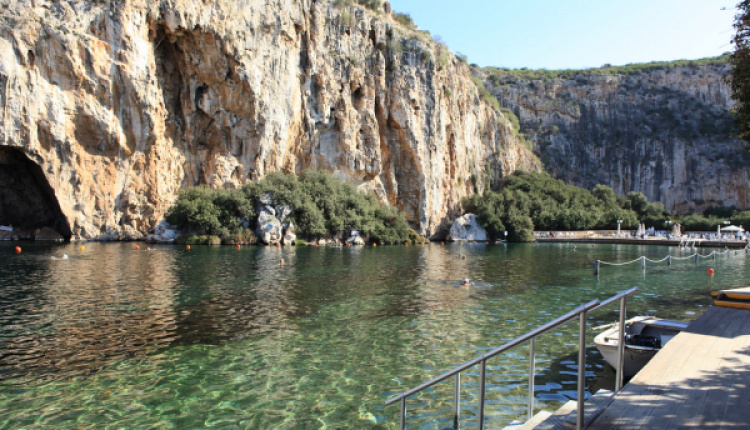 With the summer sun heating up the city, these organized beaches just outside central Athens are the perfect place to enjoy a refreshing swim with the convenience of beach chairs, snacks and beverages, and on-beach wait service. Of course, visiting an organized beach with these additional amenities is not without charge and you should expect to pay for your sun chair, umbrella and snacks.

In the heart of the Athenian Riviera you will find the hidden treasure of Attica's nature. Situated on an idyllic landscape, this rare geological phenomenon is waiting to be discovered. The lake's brackish waters which are continuously replenished both by the sea and the underground thermal springs offer a natural and unique thermal spa experience.

As you enter the water you will feel the poecilia fish with their subtle tweaks who will give you plenty of exfoliation sessions and help in healing wounds. At Vouliagmeni Lake you will also find a café, restaurant, cocktail bar, comfortable chairs, umbrellas and showers.


Telephone: 210 896 2237
Cape Sounio
The archaeological site and the magnificent seaside horizon are integral parts of the view that Cape Sounio Grecotel beach offers!
The beach of the famous hotel is open to everybody, as not only the residents have access to it. The entry for the bathers is from the main entrance of the hotel and there are various charges depending on the use that each bather will use.
For the rest of this year, special emphasis is given on children's entertainment with special entertainment programs under the Grecoland umbrella, which is targeted at the tenants but on the basis of availability and guests ~
Address: 67th km Athens-Sounio
Telephone: 229 206 9700
Asteras Glyfada Complex
One of the most well-known seaside resorts, located a breath away from the center of cosmopolitan Glyfada, with excellent facilities and a variety of options for all tastes.
The famous "Balux Cafe - The house project", which was radically renovated this year, resembles ... your own house on the beach! Enjoy your swim, try out kitchen tastes, do a casual business meeting at the library or let your children play carefree at the playground. On the other hand, the "Balux Seaside Escape" is ideal for relaxing by the pool or the sea, while having the chance to taste Polynesian cuisine and exotic cocktails throughout the day ~
Address: Poseidonos Avenue 58 -
Telephone: 210 898 3577
Yabanaki
One of the most popular organized beaches. YaBaNaKi's long sandy beach, shallow waters, extensive water sports and toys facilities along with the plenty dining options make it an irresistible beach fun approach.
If you decide to visit Yabanaki you will find a variety of food including pizza, pasta, a full list of "Goody's Burger House", fish and seafood, ice creams, coffees and refreshments. Also, do not miss out on the beautiful cocktails by "Holy Spirit", which organizes many live events this year, as well as the "Moana beach house" for endless fun and high summer music ~
Address:
Akti Varkiza
Telephone:
2108972414
Working hours: 9am to 7pmEntrance: € 5 on weekdays and € 6 on weekends and bank holidays. Free for children up to 6 years old.On weekdays sunbeds are not charged, weekends cost € 5 per one
Grand Beach Lagonisi
The "Grand Beach" of "Grand Resort Lagonissi" is considered - and is - one of the best organized beach complexes in Attica, especially after last year's impressive renovation, which continued this year with some new touches.
Beach services include cinema, volleyball courts, tennis, umbrellas and sun loungers, water sports, a practice room, a café and a very good restaurant with a full menu for all tastes and the whole family
Address
: 40th km Athens Sounion, Lagonissi
Telephone
: 2291 076000
Working hours: 9 am-8 am Entrance: € 19 daily (including snack or cool salad and beverage or beer) and € 30 at weekends (rich lunch and salad included). Entry for children up to 12 years is € 12 and 15 respectively on weekends. Parking on weekdays will cost you € 6, during the weekends € 12, while if you own a motorcycle the cost is € 3 and 6 respectively.


Eden Beach (Mavro Lithari)
Located in the Saronida district, Eden Beach is a private Blue Flag beach situated on the grounds of the Eden Hotel. Deck chairs, umbrellas, showers, dressing rooms, lifeguards, a beach bar and many other services are available to guests.
Address:
47th km Αthens-Sounion

Telephone:
2291060031
Prices on weekdays: Single sunbed € 2, 2 sunbeds & parasol € 6 , beach daybed € 20, Platinum Deck: 2 sunbeds & parasol € 15Prices on weekends: Single sunbed € 3, 2 sunbeds & parasol € 9, beach daybed € 25, Platinum Deck: 2 sunbeds & parasol € 20Aqua Park prices (per-hour) on weekdays: 1 person € 6, Parent & 1 child € 10 - additional child € 5Aqua Park prices (per-hour) on weekends: 1 person € 12, Parent & 1 child € 20 - additional child € 10