How The Coronavirus Pandemic Is Affecting CO2 Emissions
by XpatAthens
Monday, 06 April 2020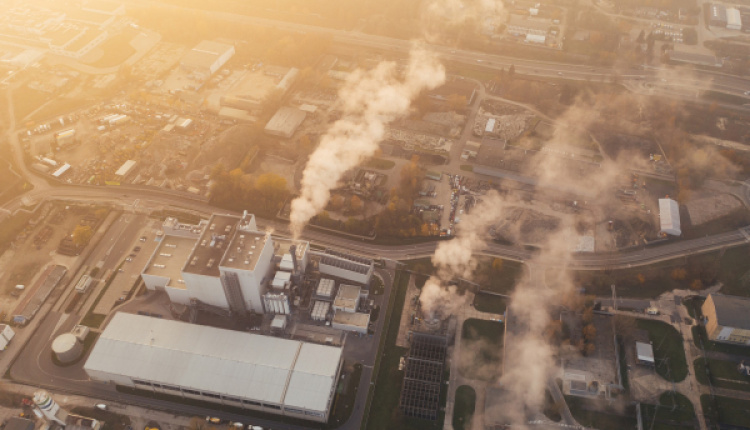 Covid-19 has caused great human suffering across the world, but with global economic activity ramping down as a result of the precautions to prevent the spread of the virus, levels of air pollutants and warming gases are showing significant drops. As leading campaigners say, governments should act with the same urgency on climate as on the coronavirus, as evidence mounts that not only the health crisis is reducing gas emissions more than any policy but also proves that political and corporate leaders can take radical emergency action on the advice of scientists to protect human wellbeing.

In China, the source of the disease and the world's largest carbon emitter, measures taken to contain the coronavirus resulted in reducing CO2 emissions by a quarter with only a small reduction in economic growth, according to an analysis carried out for the climate website Carbon Brief.

"If this trend continues, analysts say it is possible this will lead to the first fall in global emissions since the 2008-09 financial crisis."

On the advice of health authorities, millions of people are avoiding their usual commutes and shopping trips. Thousands of flights have been canceled. Italian bishops are not conducting mass. Across central China, factories have been closed, with knock-on effects around the world.
The virus has also disrupted several events linked to the fossil fuel industry. In the past weeks, the Geneva Motor Show was canceled, after Switzerland banned all public gatherings of more than 1,000 people. In Houston, the giant annual CeraWeek gathering of oil and gas executives was called off, as was the Formula One Grand Prix in Shanghai.

More carbon savings will come from the cancellations of international conferences. The London Book Fair, the Mobile World Congress in Barcelona, the Game Developers Conference in San Francisco, Adobe's annual live summit and even South by Southwest, the huge annual film, music, and media conference in Austin, Texas, have all been called off, which means thousands of tonnes less CO2 from flights taken by international delegates.

The worlds of entertainment, fashion and sport are similarly affected. Stormzy, Mariah Carey, Slipknot, and New Order have all canceled or postponed gigs. A bigger effect is likely to come from the postponement of Art Dubai, the biggest art fair in the Middle East. The closure for several weeks of Tokyo Disneyland and Disneysea, or the Universal Studios theme park in Osaka, Shanghai Disneyland and other attractions that usually draw tens of thousands of visitors every day, are also expected to result in fewer flights.

Global air traffic decreased by 4.3% in February with cancellations of tens of thousands of flights to affected areas. But Rob Jackson, the chair of Global Carbon Project, said this would only be meaningful if it inspired long-term behavioral change. "If this could change the way we travel, it could lead to more virtual meetings," he said. Otherwise, "I see no silver lining to the coronavirus. If gas emissions drop temporarily then great, but it won't be a meaningful change in the long term unless it shocks us in a global recession. Nobody wanted that in 2008 and nobody wants it now."
There are encouraging signs. The 189-nation International Monetary Fund and its sister lending organization, the World Bank, will replace their usual spring gathering in Washington with a virtual teleconference. This is a one-off emergency measure, but the economic and carbon savings could prompt calls for this to become the norm every year.
The question is whether changes are temporary. It is too early to know if coronavirus will push global CO2 emissions onto the downward path that is needed if the world is to have any hope of keeping global heating to a relatively safe level of 1.5C above pre-industrial levels. That depends on how far the outbreak spreads, whether the economic effects are prolonged, and how governments will decide to re-stimulate their economies once the pandemic eases.

To read this article in full please visit theguardian.com.