Mountain Biking on Mount Parnitha
by XpatAthens
Monday, 12 April 2021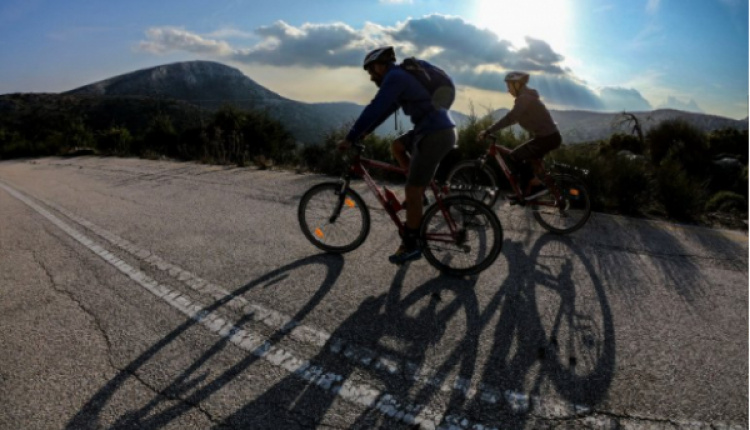 Mountain bike enthusiasts who take on the untamed terrain of Mount Parnitha will be richly rewarded by this natural playground that's just one hour from downtown Athens.

Parnitha, one of three mountains that surround the Athenian basin, is by far the wildest. While the other two—Hymettus and Penteli—also have forested parts, you rarely feel as if you have really left the city. Parnitha, on the other hand, is a proper wilderness, a true "mountain's mountain".
The landscape is wild, with rocky hills covered in scrub in places, and dense, mature forests of fir and black pine in others. The weather is also different. There is a distinct touch of winter to the thinner air. The city is still visible, indeed the view is superb, but a hazy atmosphere makes it seem unreal, like a video game backdrop that you can see but never reach. All you can hear are the birds and the breeze.

A friend from This is Athens met with their guide Giannis at the Bafi refuge, an attractive mountain lodge where many of the mountain's visitors end up for a warm bowl of soup or hearty sausages after a day out in the fresh air. Giannis could probably whip around the mountain before my first water break, yet, he adjusts to my pace while making it seem that he is doing no such thing, chatting knowledgeably about Parnitha's flora and fauna.

Despite the devastating 2007 wildfire that ravaged much of Parnitha's fir forest, the national park is home to roughly 1,000 species of plants, as well as animals large and small, including a large population of red deer. After many years of absence, wolves have even started to reappear on the mountain.

After a few kilometres on asphalt, we turn onto a dirt road through the forest. We cruise downhill, and my thrill at zooming through the trees is only slightly marred by the thought of what it's going to be like to pedal back up. But every stretch is awash in natural beauty and every bend offers stunning views.

We've been riding for over two hours. At this point, Giannis often summons a van for his riders because the final stretch is all uphill. But it doesn't seem much worse than what we've already encountered, so I decided that it would be a shame to complete our circuit in the back of a van. Citing an old Greek adage, I say: "We've eaten the donkey, all that's left is the tail. Let's do it."

It is a big tail, one that is negotiated rather slowly and with gritted teeth. But, finally, we ride into the Bafi mountain refuge just as the sun is setting, feeling sweaty but accomplished.

To read this article in full visit: thisisathens.org
Photo by: Trekking Hellas
---
Whether you've just arrived in town – or have been here for years – Athens always has new secrets to share!
This is Athens
is the official guide to this captivating city of ancient energies and booming urban culture. Compiled by a team of specialist local writers, This is Athens brings you an authentic and intimate portrait of a living Athens beyond the guidebooks – along with daily curated listings of all the best events and great weekend inspiration all-year round. From must-know neighbourhoods and emerging art hubs, to gourmet hotspots, cool shopping and the buzziest bars, This is Athens will help you to get the most out of living in Athens!