Santorini Walking Tours - Santorini Wanderlust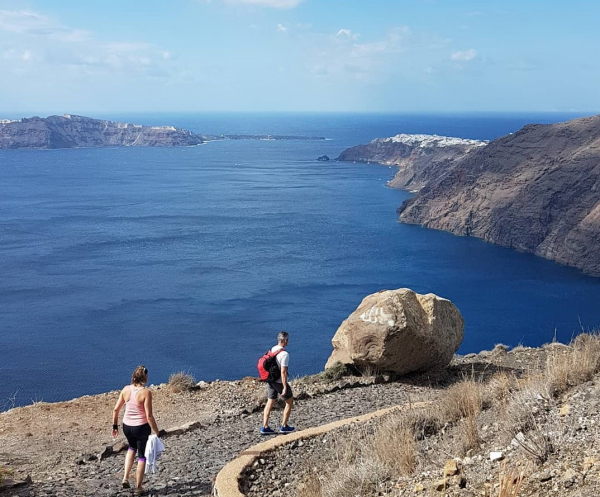 Experience the absolute splendor of Santorini, while strolling through some of the most scenic and quiet villages of the island. Walk alongside beautiful mansions, explore quaint rural houses and discover the charm of Santorini's abandoned neighborhoods. Visit a traditional winery to taste the local volcanic wines, and stop by a unique microbrewery for a fresh beer tasting experience.


Your local guide will take you to the countryside where you will get to meet locals still living there, and learn about professions and crafts that no longer exist. Discover amazing cave houses and capture the essence of Santorini as it used to be, before being wrecked by a massive earthquake. Enjoy a trip back in time, and let the aura of Santorini's villages enhance your senses.
If you wish to see all what Santorini has to offer, or want to have an off the beaten path walking tour, this experience is perfect for you.


Inspired by a customized walk featured in the NY Times in 2017, we now offer an extended version of this signature tour. Designed to showcase more off-the-grid locations, well-kept secrets, and unknown corners of Santorini. This Extended Santorini Wanderlust tour includes a visit to the best preserved Venetian castle of Emborio village, following the path which connects Emborio with Pyrgos. A fascinating trip back in time, and an insight into the rural life of Santorini. If you are interested, please inquire adding Extended Santorini Wanderlust to the comments.


With this
Santorini Walking Tour
you will immerse yourselves into the island life, enjoying the bright sky, the endless horizon, and the true wonder of nature that Santorini is.
EVENT INFO
When

:

01 Mar 2021 - 30 Oct 2021

Where

:

Santorini

Title:

Santorini Walking Tours - Santorini Wanderlust

Contact Number:

+30 2286036496