Greek Chinese Theater Performance - "Farewell My Concubine"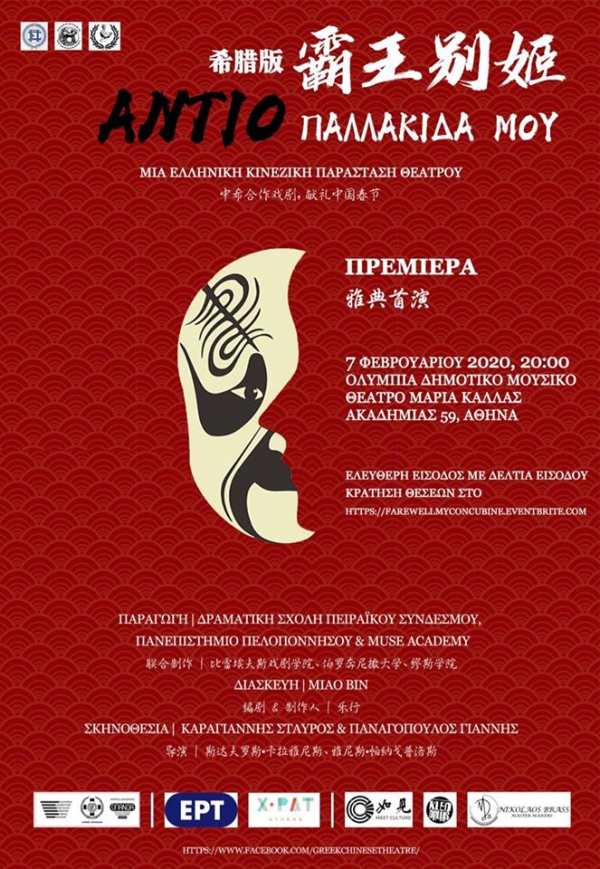 A world-famous play being staged in Greece for the first time!
February 7th at 20:00 - Olympia Municipal Music Theatre Maria Callas

A co-production of Peiraikos Syndesmos Drama School, Department of Theatre Studies of University of Peloponnese and Muse Academy.

"Farewell My Concubine" has been one of the most classical plays of Peking Opera, which was written based on real history from 206 BC to 202 BC. It was first performed for the public in 1918 by Yang Xiaolou and Shang Xiaoyun, and then since 1922, it became the most well-known play of Mei Lanfang, who was the most famous artist of Peking Opera. For generations, this tragic story has been staged for countless times in various genres and also been filmed which received many awards and remains the only Chinese language film having won Palme d'Or at Cannes Film Festival. As a world-famous play, The it has not been staged in Greece yet.

This project was initiated by Miao Bin, who is the postgraduate student of the Department of Theatre Studies and the playwright of this play. Stavros Karagiannis and Yiannis Panagopoulos are both in charge of the direction of this performance, and sixteen Greek student actors from Peiraikos Syndesmos Drama School together with the Chinese actor Miao Bin are teamed up to present this story from ancient China.

This performance is the second Greek and Chinese theatre co-production based on a Chinese theatre play, after "Zhao the Orphan" which was co-produced by National Theatre of Greece and National Theatre of China in 2018. While there are more and more theatre collaborations between China and Greece, this project aims to explore the better way for the intercultural theatre co-production and to overcome the difficulties on the culture understanding for the theatre actors when they perform a foreign play, so as to build up a sample for the future productions. This performance is a fusion of the elements of Chinese and Greek theatre and culture.

On the occasion of Chinese New Year, this performance is a celebration for the coming new year, and also an outstanding part of the cultural exchange between the two ancient civilizations. The performance is free but you will have to reserve your tickets, which you will collect at the theatre's cashier desk from 11:00-18:00 on February 7th before the performance.

Reserve Your Free Tickets HERE!


---
XpatAthens is proud to be a Media Sponsor of the
Greek Chinese Theater Performance - "Farewell My Concubine"
---
EVENT INFO
When

:

07 Feb 2020 - 07 Feb 2020

Time

:

20:00 - 21:30

Where

:

Olympia Municipal Music Theatre Maria Callas Akadimias 59,

Price

:

Free

Title:

Greek Chinese Theater Performance - "Farewell My Concubine"

Email:

info@meetculture.com.