Alvin Ailey American Dance Theater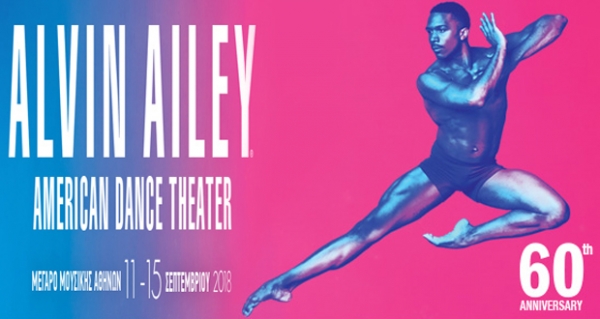 Two Diverse Programs Over Seven Performances Featuring Music by Jazz Legends Ella Fitzgerald, John Coltrane, Nina Simone, Dizzy Gillespie, and Duke Ellington.


Seven Dynamic Works Including International Debut of Ailey Dancer Jamar Roberts' Members Don't Get Weary and Alvin Ailey's Must-See American Masterpiece Revelations.


Alvin Ailey American Dance Theater, recognized by U.S. Congress as "a vital cultural ambassador to the world," returns to Megaron, The Athens Concert Hall to perform two diverse programs from September 11-15, 2018. After a 21-city North American Tour hitting major theaters from coast-to-coast, Artistic Director Robert Battle leads the Company into its 60th anniversary year with a month-long international tour beginning with the Company's 10th visit to Greece. Audiences in Athens can experience the unparalleled artistry of Ailey's 32 renowned dancers, as they perform an expansive repertory highlighting the marriage between modern dance and jazz – America's two original art forms. Each performance closes with Alvin Ailey's must-see American masterpiece Revelations.


The engagement opens on Tuesday, September 11 at 9pm with Program A, featuring Billy Wilson's The Winter in Lisbon, a rhythmic and colorful celebration of the great Dizzy Gillespie. Ailey star Jamar Roberts will internationally debut his blues-inspired work Members Don't Get Weary – his first world premiere for the Company, which he joined in 2002. Set the powerful music of the legendary jazz saxophonist and composer John Coltrane 50 years after his death, the work is "a response to the current social landscape in America" and aims to allow the audience to momentarily transcend their own personal blues. The program also includes Robert Battle's tour-de-force duet Ella, intricately paired with Ella Fitzgerald's scatting in her song "Airmail Special." Program A repeats on Wednesday, September 12 at 9pm, Friday, September 14 at 9pm, and Saturday, September 15 at 9pm.


Program B takes the stage on Wednesday, September 12 at 4:30pm with a performance of founder Alvin Ailey's 1975 classic Night Creature, a dazzling ballet set to music by jazz legend Duke Ellington; Robert Battle's gripping solo In/Side, set to soul-stirring music by Nina Simone; and beloved choreographer Ronald K. Brown's spiritually charged Four Corners. Program B repeats on Thursday, September 13 at 9pm and Saturday, September 15 at 4:30pm.


To close each performance, the incomparable Ailey dancers will perform Alvin Ailey's must-see American masterpiece, Revelations, which is a tribute to his African American heritage and a testament to his genius. Seen my more people than any other modern dance work since its debut in 1960, Revelations has moved audiences around the world through its powerful storytelling and soul-stirring music, evoking timeless themes of determination, hope, and transcendence.
EVENT INFO
When

:

11 Sep 2018 - 15 Sep 2018

Where

:

Megaron - Athens Concert Hall

Price

:

From 25€

Title:

Alvin Ailey American Dance Theater

Contact Number:

210 7282333