Pet Shop Boys Live In Athens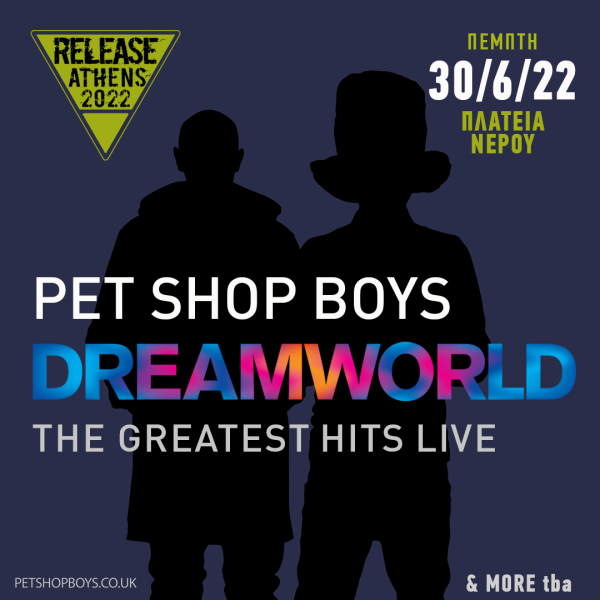 Release Athens 2022 welcomes Pet Shop Boys on Thursday, June 30, at Water Plaza. Neil Tennant and Chris Lowe, the most successful duo in UK music history, are coming to Athens with their impressive "Dreamworld: The Greatest Hits Live" show, full of the most successful songs of their remarkable career.

From the day they signed to Parlophone Records, Pet Shop Boys started writing pop music history. The numbers are staggering: 42 Top-30 singles, 22 Top-10 hits, 4 no 1s, 14 Top-10 albums (including the excellent "Hotspot" released in early 2020) in the UK and equivalent, if not even greater, success throughout the whole world.

It's A Sin, West End Girls, Heart, Go West, Always On My Mind, Love Comes Quickly, Domino Dancing, What Do I Want To Deserve This, Suburbia, Being Boring, Can You Forgive Her, Left To My Own Devices, Se A Vida E (That Is The Way Life Is), are just some of the wonderful songs that have given us over the last 30 years.

More acts for this day to be announced soon!
EVENT INFO
When

:

30 Jun 2022

Where

:

Plateia Nerou

Price

:

40€

Title:

Pet Shop Boys Live In Athens

Email:

info@releaseathens.gr

Contact Number:

+30 210 3450817