Junior Squeezy: Pitching Competition For High School Students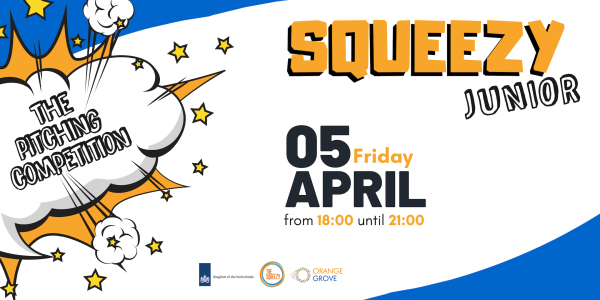 What does an online service that helps YouTubers create intro videos for their channel, an online marketplace for natural food products, a decentralised cross-chain cryptocurrency exchange, a parking app, a web-wed website and a system that monitors the safety of people with Alzheimer or young children, have in common?


All are innovative ideas by high school students, aged 15-17, participating in Orange Grove's "Junior Squeezy", the new entrepreneurship program for young students. For the past three months, the students have attended training sessions delivered by Orange Grove's network of experienced mentors and coaches, in order to develop and promote their entrepreneurial ideas. Now, they are ready to go on stage and participate in Orange Grove's Pitching Competition for high school students which will signal the conclusion of the program.


The Junior Squeezy pitching competition will take place on Friday, April 5 at 18.00 at Orange Grove (5-7 Leof. Vassileos Konstantinou, Athens), the international startup incubator in Athens, which is an initiative of the Embassy of the Kingdom of the Netherlands in Greece.


Six teams of aspiring entrepreneurs will pitch their idea to an international jury consisting of theU.S. Ambassador to Greece, H.E. Geoffrey R. Pyatt, Ambassador of Israel to Greece, H.E. Irit Ben-Abba, Ambassador of the Netherlands to Greece, H.E. Caspar Veldkamp, the Head of Human Resources at Interamerican, Drossia Kardassi and the co-founder of Square Athens, Yiannis Kehagias, in order to claim one of the three big prizes of the competition.


The Embassy of the Kingdom of the Netherlands in Greece will offer to the first and second prize winners (and an accompanying parent/team) a trip to the Netherlands, during which the winners will visit the Global School for Entrepreneurship in Amsterdam, will learn more about the Netherlands startup ecosystem and meet young people with innovative business ideas. The winning team of the 3rd prize will have the opportunity to continue using Orange Grove's facilities and advisory team for a three-month period.


The Junior Squeezy event is open to the public and entry is free. Register
HERE
!
EVENT INFO
When

:

05 Apr 2019 - 05 Apr 2019

Time

:

18:00 - 21:00

Where

:

Orange Grove Leoforos Vassileos Konstantinou 5-7

Price

:

Free

Title:

Junior Squeezy: Pitching Competition For High School Students

Email:

info@orangegrove.eu

Contact Number:

+30 211 4082552 /8

Website:

orangegrove.eu/