Exclusive Nonino Tasting Event At Alexander's Cigar Lounge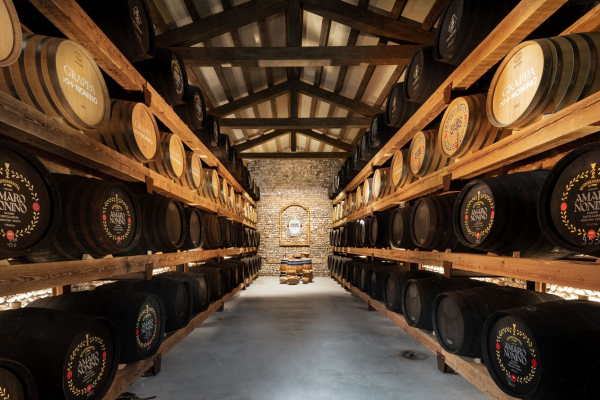 The Alexander's Cigar Lounge welcomes the acclaimed Nonino distillery in an exclusive tasting event.


On Thursday, 23rd of March 2023, Head Sommelier Evangelos Psofidis and Executive Chef Asterios Koustoudis invite you to live an exclusive culinary experience dedicated to the renowned Nonino distillates in the Alexander's Cigar Lounge on the 1st floor of Hotel Grande Bretagne.

Guest of honor Elisabetta Nonino, proud member of the Nonino family, will guide you through their century-old art of 100% artisanal distillation in combination with a unique pairing menu specially designed for this evening.


Reserve your seat in the colonial atmosphere of Alexander's Cigar Lounge to join an exploration of the secrets that have made Nonino distillates so famous in the world.
Nonino Distilleries
Originating from Friuli, North Italy, the Nonino Family has devoted itself to the art of Distillation since 1897. Quality, innovation, research and love for their work are their distinctive mark. Nonino spirits have been awarded for their exceptional quality and innovative production methods, and in 2019 the family's distillery was voted the best distillery in the world by Wine Enthusiast in San Francisco.
Nonino Grappa and ÙE® are obtained from fresh primary products distilled 100% with artisanal method in their own copper batch steam stills in Ronchi di Percoto, followed by a natural ageing in barriques and small casks under official seal in the 5 Grappa Ageing Warehouses (M.I.G.) of the Nonino Distilleries and are bottled with 0% color additives. The Noninos carry on the evolution of Grappa – Italian Cocktail Spirit, protagonist of fabulous cocktails and Aperitifs.
ALEXANDER'S CIGAR LOUNGE
1st floor - HOTEL GRANDE BRETAGNE | Vasileos Georgiou 1 A, Athens, 105 64


Thursday, March 23rd 2023
Arrival time: 20:15
Start time: 20:30
Price per person: 85€ (reservation is required)
For reservations and more information kindly contact us on +30 210 3330748
EVENT INFO
When

:

23 Mar 2023

Where

:

Alexander's Cigar Lounge

Price

:

85€ (reservation is required)

Title:

Exclusive Nonino Tasting Event At Alexander's Cigar Lounge

Contact Number:

+30 210 3330748