Opera Nights At The Winter Garden - Hotel Grande Bretagne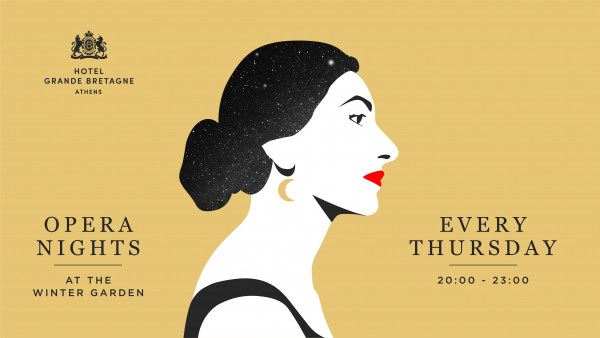 The elegant ambiance of the Winter Garden City Lounge embraces the fine sounds of Opera and welcomes some of its most renowned repertoires every Thursday up until December 26th, 2019.
Gracefully aligned with the fine essence of the historic
Hotel Grande Bretagne
and the enchanting environment of the hotel's city lounge, the "Opera Nights at the Winter Garden" debut with a duet of a soprano and a tenor.
The last month of autumn, November, is exclusively dedicated to the renowned arias uniquely performed by famous Maria Callas whereas, December will introduce us to the warmest winter welcome through the sophisticated and festive Christmas sounds.
Indulge in the stylish and opulent setting of the Winter Garden and accompany your very own Opera night with the Champagne or Cocktail of your preference, selected by the fine menu curated for those exclusive nights.
Thursdays dress-up their Opera and Festive attire and welcome you to the city's most elegant and enchanting refuge; the Winter Garden City Lounge.
EVENT INFO
When

:

21 Nov 2019 - 26 Dec 2019

Time

:

20:00 - 23:00

Where

:

Winter Garden City Lounge - Hotel Grande Bretagne

Title:

Opera Nights At The Winter Garden - Hotel Grande Bretagne

Email:

info.gb@marriott.com

Contact Number:

+30 210 3330000