Burger Fest 2021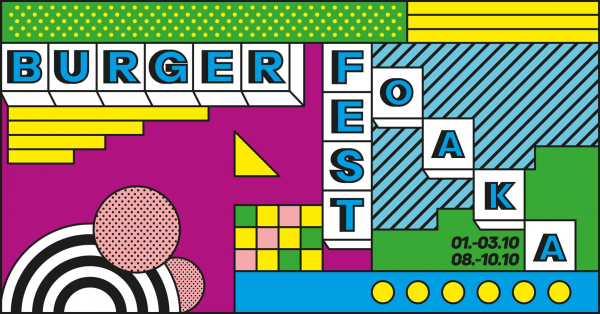 The largest food festival in the city returns for the 5th year in a brand new space of O.A.K.A Olympic Stadium in Maroussi.
Some of the most renowned restaurants and burger houses of Greece will be present, empowering our philosophy and passion for excellent food and music!
Guests will have the chance to taste exotic flavors, enjoy traditional juicy burgers and refreshing premium beers!

Here is a guide on how to make the most out of this year's Burger Fest:
- Step 1. Choose the day you want to visit the festival
- Step 2. Choose the time you would like to visit the festival.
- Step 3. Choose the available time slot in which you want to book your place or table with your friends.
- Step 4. After selecting the available zone and the time you want to visit click "Book" and secure your place or table!
*All tickets include a beer or soft drink.
Event Schedule:



Friday 1/10
20: 00-21: 00 Double Impact with Angelos Spiliopoulos - Elias Foundouli and guest Spilio Floro
21: 15-22: 45 Logopaignia Fright Night presentation by Ilias Foundoulis, with Angelos Spiliopoulos - Spilio Floro - Costa Kryo - Odysseas Denise Orem
Saturday 2/10
17:00 - 21:00 Phunk Sinatra
21:00 - 22:30 Bejeezus
22:45 - 00:30 Tonis Sfinos
Sunday 3/10
17:00 - 21:00 Constantine Kalfakakos
21:00 - 22:30 Rsn & The Electric Quartet ft. Mc Yinka
22:45 - 00:30 INCO
Friday 8/10
20: 00-21: 00 ROU TO LET with Paris Roupo - Giannis Rousso and guest Konstantinos Bouras Baimakos
21: 15-22: 45 Logopaignia Fright Night presentation by Elias Foundoulis, with
Paris Roupo - Giannis Rousso - Angelos Kyriakidis - Konstantinos Bouras Baimakos
22:45 - 00:30 Street Outdoors
Saturday 9/10
17:00 - 21:00 Sin & Soul by Mitch Darkstar
21:00 - 22:30 Blend Mishkin & Roots Evolution ft. Sugahspank & BnC
22:45 - 00:30 Eisvoleas Full Band
Sunday 10/10
17:00 - 21:00 Dj Snatch
21:00 - 22:30 Jaguar Bombs
22:45 - 00:30 Wedding Singers