SGS Family and Pet Festival | Technopolis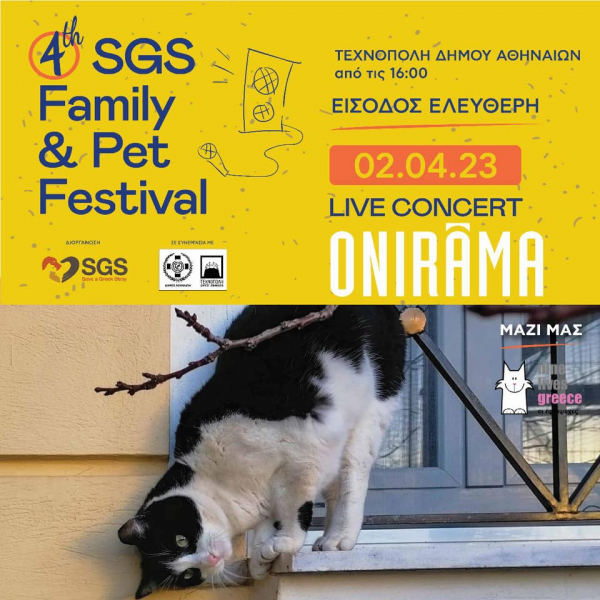 Save a Greek Stray (SGS) is organizing the SGS Family and Pet Festival for the fourth consecutive year on Sunday, April 2 at Technopolis of Athens. This festival is dedicated to families, children, and our furry friends, with the aim of developing and promoting animal welfare culture, raising awareness and informing everyone about animal rights.


This year's event promises to be bigger and better than ever before, with a full day of activities planned to keep everyone entertained. From 4 pm onwards, visitors can expect music, wagging tails, a photo booth, games, and many other fun activities. The festival offers a chance to spend a day out with the family while learning more about animal welfare.


For those who are passionate about animals, the festival offers an opportunity to get involved with a cause that truly matters. By promoting the importance of animal welfare and animal rights, SGS is helping to build a more compassionate and responsible community. It is through initiatives like these that we can create a world where all animals are treated with respect and care.
The festival is open to everyone, so whether you have a furry friend of your own or simply want to spend a day out with the family, you're welcome to come along. Not only is the event a fun way to spend the day, but it's also an opportunity to learn more about animal welfare and how we can all play a part in protecting our furry friends.


Save a Greek Stray has been doing incredible work for animals in Greece for years, and the SGS Family and Pet Festival is just one example of their commitment to promoting animal welfare. By attending the festival, you can show your support for the organization and help raise awareness about animal rights in Greece.


So if you're looking for something fun and meaningful to do this weekend, why not head to Technopolis of Athens for the SGS Family and Pet Festival? It's sure to be a day filled with music, laughter, and, of course, plenty of wagging tails!
EVENT INFO
When

:

02 Apr 2023

Time

:

16:00 - 16:00

Where

:

Technopolis

Price

:

Free

Title:

SGS Family and Pet Festival | Technopolis

Email:

ninelivesgreece@gmail.com