Friends of Merimna Christmas Bazaar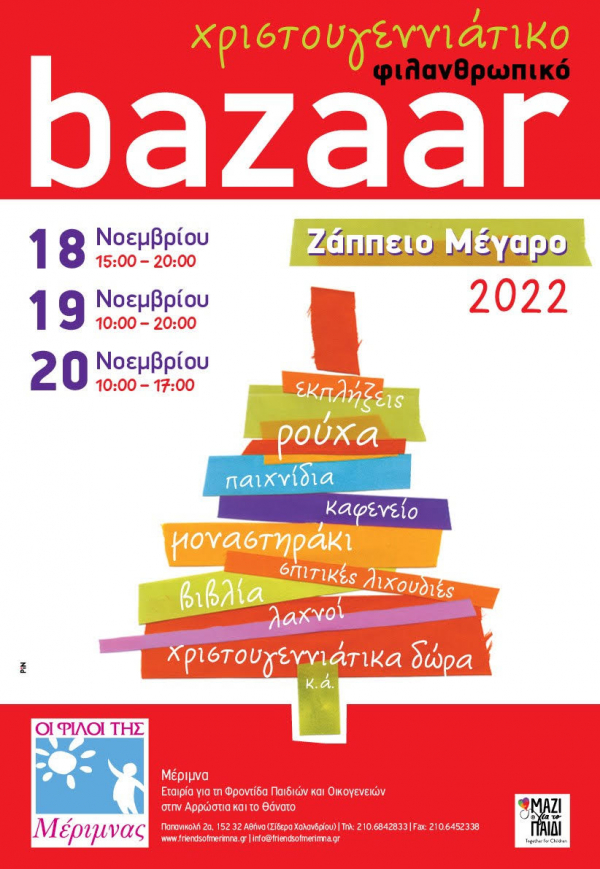 With great pleasure, we await you at the 18th Annual Christmas Bazaar, held by the NGO "Friends of Merimna" at the Zappeion Hall in the National Gardens of Athens near the Syntagma Metro station

The detailed days and hours of the Bazaar are:

Friday, November 18th, 15:00-20:00
Saturday, November 19th, 10:00-20:00
Sunday, November 20th, 10:00-17:00

You will have the opportunity to discover original and useful gifts, toys & games, homemade marmalades and sweets, Christmas decorations, New Year's charms, used books in many languages for young and old, exceptional used clothing, shoes, purses and jewelry at affordable prices!

At our Monastiraki, you will find many wonderful treasures!!

This year "La Chocolatiere" welcomes us with its van at the entrance of Zappeion for a delicious coffee and will be waiting for us at the Bazaar's inner café for a warm stop before and after our purchases.

There will be great surprises in the lottery of the Christmas Bazaar of the "Friends of Merimna", with special and unique gifts such as trips, bicycles, hotel stays, cosmetics, and much more.

All proceeds of the "Friends of Merimna" Bazaar will be donated to the work and services that Merimna offers free of charge to children, up to 18 years of age, and to their families.

- "Pediatric Palliative Care Service at Home": a specialized interdisciplinary team (pediatricians, nurses, psychologist, social worker) offers medical and psychosocial services at home to the child suffering from a serious and life-threatening illness while supporting the other members of his/her family and those who play an important role in his/her life.
- "Childhood Bereavement Counseling Centers" in Athens and Thessaloniki Provide psychological support from specialized psychologists to the adolescent child and his/her family, who are mourning the loss of a loved one. Come for all your Christmas Shopping needs!!!