11th Greece Race For The Cure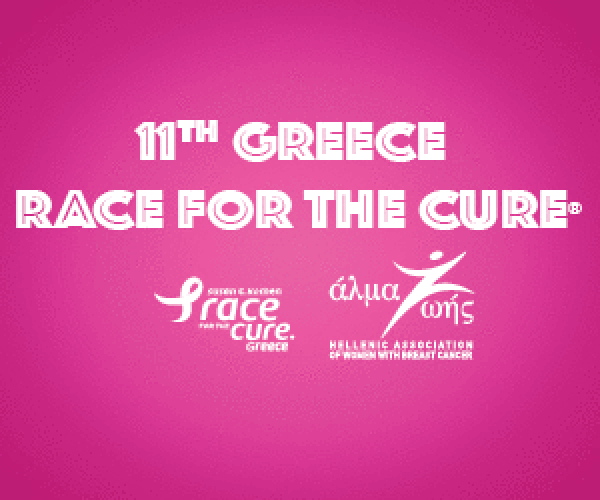 Greece Race for the Cure® is a running event against breast cancer, organized in Athens by Hellenic
Association of Women with Breast Cancer "Alma Zois", in co-operation with the City of Athens Cultural, Sport &
Youth Organization (OPANDA), in collaboration with the Organization of Susan G. Komen for the Cure®.


Greece Race for the Cure® takes place the last Sunday of September in Athens. This year, it is held for the 11th year, on Sunday, September 29th, 2019.


Greece Race for the Cure® is now one of the most popular Races for breast cancer awareness in Europe and it
is the largest sports event with a social purpose in Greece, bringing together more than 150,000 participants
throughout the history of the event.
Through the Race for the Cure® we are part of a global initiative to support breast cancer patients,
toο.

Information, awareness and support for women who are under treatment, for women –survivors and for the
general population are non-negotiable objectives of the Greece Race for the Cure® and the Hellenic
Association of Women with Breast Cancer "Alma Zois".
This year, for the first time, the Run of Athens joins Greece Race for the Cure® against breast cancer with a
route of 10 Km with a timing chip.

The reasons we run

Our goal is to provide information to every woman in Greece about early detection methods and about the right steps that have to be taken – depending on the age – in order to be safe, according to international medical guidelines.

- We run in order to inform every woman in Greece about breast cancer
- We run so that everyone shall hear our voice about the importance of breast cancer prevention and early diagnosis
- We run to demystify breast cancer
- We run to defeat fear and prejudice
- We run to improve the quality of life and the rights of women with breast cancer
- We run to support women with breast cancer and their families
- We run to save lives
- We run to honor the women who are no longer close to us
- We run the road against breast cancer

Programs funded by 10th Greece Race for the Cure®

- Helpline for breast cancer patients
- Βeauty techniques and nutrition tips for breast cancer patients during therapy
- Legal Counseling Program
- Genetic Counseling and testing
- Group Therapy & Wellness programs
- Τraining program for Healthcare Professionals in Communication Skills with Oncological patients
- Scientific Research Grand for breast cancer in Greece (in psycho-oncology)
- Breast cancer Workplace awareness program
- Breast Cancer Awareness Program – Clinical Breast Exams for 20-39 y.o. women
- Breast Cancer Awareness Program in 5 areas in Greece with limited access to healthcare services

Registration fee: The registration fee is 6€/person for 2km walk and 8€/person for runners' registration with a timing chip.

You can register your participation HERE

All Registrations close on Monday, September 23th 2019.

For the 2Km walk you can also register at kiosks around Athens:

1/9/2019 – 23/9/2019 Monday- Sunday: 10:00 – 23:00

Hard Rock Café Athens (52 Adrianou Str., Monastirion, Athens)

9/9/2019 – 21/9/2019 Monday- Saturday: 11:00 – 20:00

The Mall Athens (35 A. Papandreou, Amaroussion)
Hondos Center Ermou (39 Ermou, Sintagma)
Athens Metro Mall (276 Vouliagmenis, Aghios Dimitrios)

With each registration you will receive the collector's T-shirt of the Race!

Race kit pick up:

For online registration: 68, 3rd September Str., Athens, 2/9/2019 – 26/9/2018, Monday – Friday 10.00am – 18.00p.m.


2km walk only – Registration kiosks: By the time of your registration you will receive your race kit by our
volunteers in the registration kiosk.


Schedule

- Opening: 08:00 am
- 10Km Run: 08:30 am
- 5Km Race: 10:30 am
- 2Km Walk: 11:30 am


---
XpatAthens is proud to be a Media Sponsor Of Greece Race for the Cure(R)

---