6th Athens Tattoo Expo & 3rd Athens Barber Expo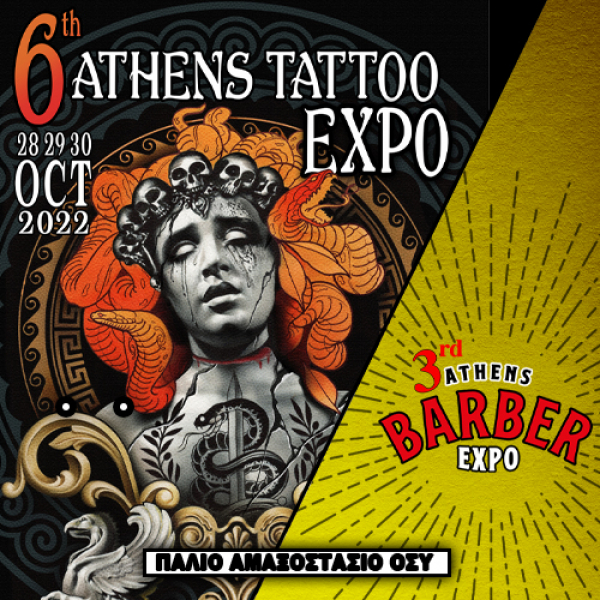 True to its established autumn appointment, the Athens Tattoo Expo returns for the 6th year.

A celebration of the art and culture of tattooing takes place this year at the Old Railway Station of the OSY in Gazi and becomes a pan-Hellenic meeting point for all those who love the art, aesthetics and culture of tattooing.

140 of the best Greek tattoo artists will gather for three days and demonstrate the high level of their work and their art.

Of course, like with any other self-respecting festival, the 6th Athens Tattoo Expo will have a rich program of parallel actions and events:


- Live Tattooing
- Tattoo Contests
- Dj sets
- Live Bands
- Art Exhibition Experiences
- Game Rooms
- Graffiti Show
- Body Painting Show Acrobatics.

And the program is ideally completed by the 3rd Barber Expo with 15 (fifteen) of the most famous barber shops in Athens actively participating in the event!



As part of the 6th Athens Tattoo Expo, the 3rd Greek barber show is presented for fans of barbering and men's grooming.
Fifteen of the city's best-known Barber Shops make their appointment at the three-day exhibition, which will be surrounded by competitions, as well as seminars by internationally renowned barbers.

It should be noted that once again the Athens Tattoo Expo shows its social sensitivity in practice by supporting from the first day of its creation
the action of the Make A Wish Organization, through the Star Your Body action, in which the visitor by making a Tattoo from selected star designs, strengthens the organization with 100% of the price.
EVENT INFO
When

:

28 Oct 2022 - 30 Oct 2022

Where

:

Old Depot OSY - Gazi

Price

:

10€

Title:

6th Athens Tattoo Expo & 3rd Athens Barber Expo