FokiaNou Art Space - Nordic Memoirs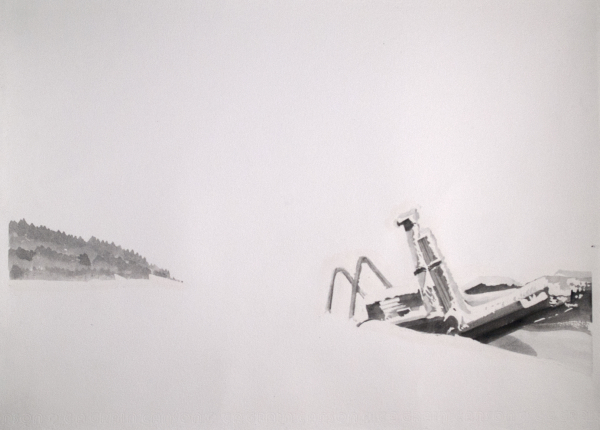 FokiaNou Art Space is pleased to present a two-person exhibition, "Nordic Memories", with work by Finnish visual artists Sebastian Boulter and Jyri Pitkänen, who have known each other and worked together for 20 years. Their common theme -- inspired by and created in remote parts of Finland -- is memories, both the question of how to retain memories and the changes over time of the emotions evoked by those memories. Boulter's watercolour series I have always been longing to here, expresses a yearning for his experience of standing on a pier on a lake as a metaphor for standing on the precipice of the hidden future. Pitkänen´s series Intimacy of Past is a collection of photographs of old handkerchiefs, a deeply personal and intimate everyday item which carries with it the past of its owner. The artists will be at the space at the opening, and on Wednesdays and Sundays.


Sebastian Boulter (b. 1974) is an Athens-based painter and musician from Finland. He holds a Master's degree in painting from The Royal Academy of Fine Arts of Brussels and secondary education diplomas of music, props making and graphic printing. Since 2000 he has held several solo exhibitions and taken part of group exhibitions in Finland, Central Europe and, since 2018, in Greece. As a musician, Boulter has also composed music for films, independent theatres, contemporary dance groups and different ensembles.


Jyri Pitkänen (b. 1979) is visual artist, photographer and a documentarist. He holds a Bachelor degree in photography from Lahti University of Applied Sciences and a Master´s degree in documentary filmmaking from Tallinn University, Baltic Film School. Pitkänen's personal work has included photographs, short films and performances. In recent years Pitkänen has been working on a long-term project about the everyday life of his parents living in the countryside of eastern Finland. Pitkänen lives and works in Tallinn, Estonia and in Athens, Greece.


FokiaNou Art Space is an artist-run project space in the intimacy of a small apartment in an old building in the center of Athens. The space encourages collaborative creative efforts between Greek and foreign artists, thereby promoting and supporting the local art community. The space hosts exhibitions, workshops and projects under the direction of two artists, Mary Cox and Panagiotis Voulgaris.
www.fokianou247.gr
The Finnish Institute at Athens contributes to realizing the exhibition.
Opening: Thursday 3 March, 17.00
Duration: 3 - 20 March, 2022
Hours: Wednesday – Sunday 17.00-20.00
FokiaNou Art Space, Fokianou 24, 7th Floor, Pagrati Metro: Evangelismos
EVENT INFO
When

:

03 Mar 2022 - 20 Mar 2022

Where

:

Fokianou 24, 7th Floor, Pagrati

Title:

FokiaNou Art Space - Nordic Memoirs

Email:

info@fokianou247.gr