FokiaNou Art Space "State of Water": Lynne Buchanan & Alegia Papageorgiou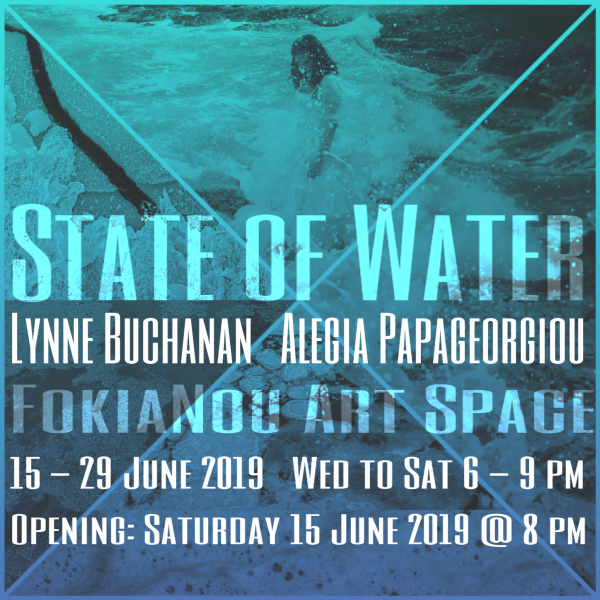 Opening: Saturday, 15 June, 20.00
Duration: 15 – 29 June, 2019. Opening hours: Wednesday to Saturday 18.00 - 21.00
FokiaNou Art Space is pleased to present "State of Water", a two-person show featuring photography by Lynne Buchanan and video and installation by Alegia Papageorgiou, two artists who share a concern for the current dire state of the environment. Originally hailing from Florida, Lynne Buchanan's beautiful photographs document the effects of climate change in Iceland, Patagonia, Bangladesh and Antarctica, as well as across the United States, juxtaposing details from opposite ends of the earth. Alegia Papageorgiou's installation, "the repairing earth project", presents small scale clay landscapes similar to the earth's surfaces, that change constantly as water is introduced, depicting man's relationship to the natural environment. Her video/installation, "La Poubelle" is a creature constructed from garbage, a wandering female figure in a setting of raging waves on inhospitable rocks. The exhibition is curated by Mary Cox and Panagiotis Voulgaris.
Award winning photographer Lynne Buchanan has had several solo exhibitions in Florida and has participated in numerous group shows around the United States. George F. Thompson Publishing recently published her book Florida's Changing Waters: A Beautiful World in Peril. Lynne holds a Bachelors Degree and a Masters Degree in Art History, as well as a Masters in English with a concentration in creative writing and a Masters of Business Administration. She understands the issues facing our waterways from multiple perspectives and communicates them through her photographs and writing. She has mentored and studied with many notable photographers including Sam Abell, Clyde Butcher, Dewitt Jones and Jill Enfield, among others.
http://www.lynnebuchanan.com/
Alegia Papageorgiou is a visual artist and scenographer based in Athens but also working in the Netherlands, the U.K., and other European countries. She earned a BA in Interior Design from Vakalo College of Arts & Design, Athens, University of Derby UK and an MA in Scenography from the Royal Central School of Speech and Drama, University of London. She is currently enrolled in a second Master's program at The Royal Academy of Arts, Royal Conservatory, The Hague. Alegia's work in scenography includes video, photography, lighting, video projection mapping, audio editing, electronics hacking, scenic art, sculpture and other forms of technical support. Among other projects, she was involved in the world premiere of Edward Bond's "Dea", The Secombre Theater, Sutton UK; the National Theater of Greece; Athens Biennale; Festival of Athens and Epidaurus, Comedie de Reims gallery, London, Sonic Acts festival, Amsterdam, and has participated in art exhibitions in Greece and abroad.
FokiaNou Art Space is an artist-run project space in the intimacy of a small apartment in an old building in the center of Athens that encourages collaborative creative efforts between Greek and foreign artists, thereby promoting and supporting the local art community. The space hosts exhibitions, workshops and projects under the direction of two artists, Mary Cox and PanagiotisVoulgaris.
www.fokianou247.gr
.
EVENT INFO
When

:

15 Jun 2019 - 29 Jun 2019

Where

:

Fokianou 24, 7th floor, Pagkrati, Athens.

Title:

FokiaNou Art Space "State of Water": Lynne Buchanan & Alegia Papageorgiou

Email:

info@fokianou247.gr

Website:

www.fokianou247.gr/