"Symvanta/Episodes", Ianthi Aggelioglou at Fokianou Art Space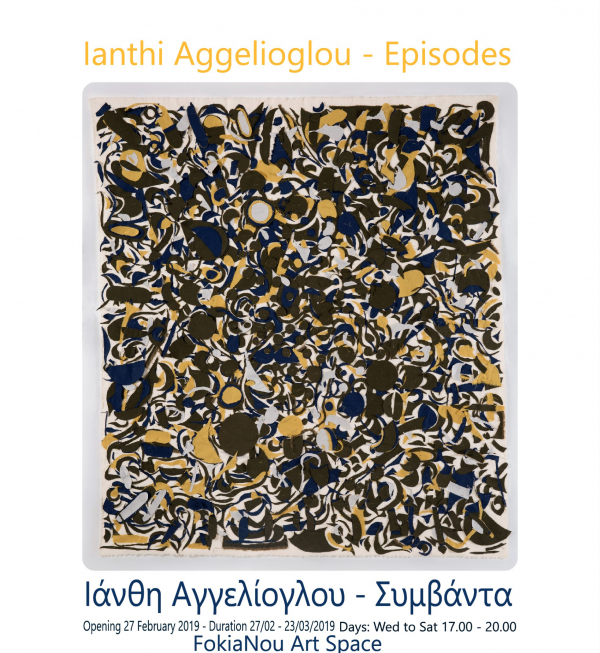 FokiaNou Art Space is pleased to present "Symvanta/Episodes" by Ianthi Aggelioglou, an exhibition of textile work and painting on paper, as well as performance. In her second solo show, Aggelioglou explores the relationship between the elements in the process of making work: the place, the material, the sequence. Pieces of fabric cut from the first part of the work, or "episode", become the catalyst for, as well as the material for the next episodes, creating a sequential unified whole. Parts of this series were presented last year in the exhibition "Theorimata" by A.I.C.A, curated by Athena Schina at EMST.
Ianthi Aggelioglou
was born in 1978 in Athens, where she lives and works. She is a graduate of the Painting department of the School of Fine Arts of Aristotle University of Thessaloniki. In 2004, on an Erasmus scholarship, she attended courses in performance and sculpture at the School of Fine Arts in Valencia, Spain. In 2011, she received a Masters in Fine Arts from the Athens School of Fine Arts, on a scholarship from the State Scholarship Foundation. In 2006 she presented her first solo exhibition entitled "graphi", curated by Emmanuel Mavrommatis, in Athens. She has participated in many group exhibitions in Greece and her work can be found in private collections both in Greece and abroad.
FokiaNou Art Space is an artist-run project space in the intimacy of a small apartment in an old building in the center of Athens. The apartment has been transformed into an open space that encourages collaborative creative efforts between Greek and foreign artists, thereby promoting and supporting the local art community. The space hosts exhibitions, workshops and projects under the direction of two artists, Mary Cox and Panagiotis Voulgaris.
Opening:
Wednesday 27 February, 19:00
Duration:
27 February to 23 March 2019. Opening hours: Wednesday to Saturday, 17:00 - 20:00
Performance:
Wednesday, 13 March, 19:00
Talk by Art Historian Athena Schina: Thursday, 21 March, 18:30
EVENT INFO
When

:

27 Feb 2019 - 23 Feb 2019

Where

:

Fokianou 24, 7th floor, Pagkrati

Title:

"Symvanta/Episodes", Ianthi Aggelioglou at Fokianou Art Space

Email:

info@fokianou247.gr

Website:

www.fokianou247.gr