Surface - Photo Exhibition By Maria Bourbou
by Hellenic American Union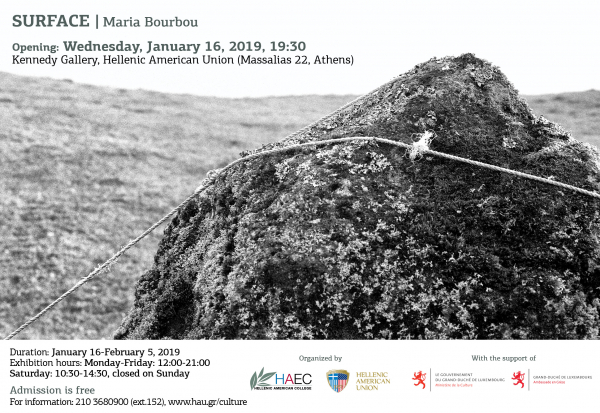 The oversized black-and-white photographs on display at the Hellenic American Union depict the surface of the Earth.

Maria Bourbou is focusing on nature and natural landscapes, affording them a metaphorical dimension. In her commentary of the works, art historian and visual artist Fiona Mouzakitis notes the following:

"The Earth's floor and nature's elements (trees, rocks, hills, pieces of wood, etc.) constitute masses, shapes and lines that form an abstract composition. The visual simplicity aims to instill harmony and calm into the viewer. Still, in addition to the abstract visual composition in the photographs of Surface, the artist also aspires to convey a feel of the space that surrounds us. The bare landscapes with the sparse vegetation and the clear horizons prompt us to contemplate the vastness of the earth's surface, and with it the vastness of time that the earth represents. Maria Bourbou makes us aware of our daily self-evident journey on this surface, the place where our circle of life begins and ends."


Maria Bourbou was born in Athens in 1971. She studied German Literature at the Kiel University, Germany and the art of photography in Athens.

She has lived and worked in various European cities and has created the studio "22Atelier", an independent artistic production and creation space in Arroios, Lisbon.


The exhibition is organized in cooperation with the Hellenic American College (HAEC) and with the support of the Ministry of Culture of the Grand Duchy of Luxembourg.
EVENT INFO
When

:

16 Jan 2019 - 05 Feb 2019

Time

:

19:30 - 21:00

Where

:

Kennedy Gallery, Hellenic American Union (Massalias 22, Athens)

Price

:

Admission is free

Title:

Surface - Photo Exhibition By Maria Bourbou

Email:

culture@hau.gr

Contact Number:

2103680052