FokiaNou Art Space - indeX Exhibition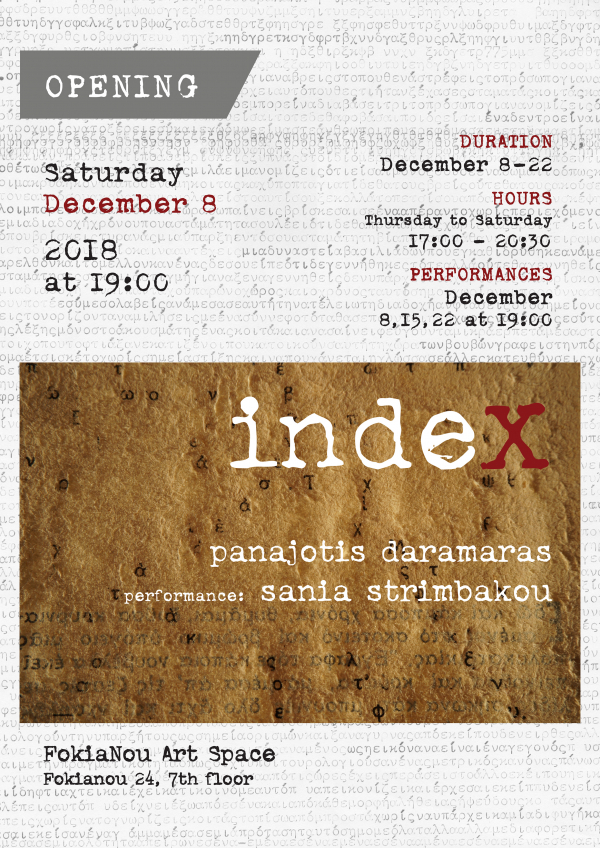 In a combination of installation and performance, artist Panajotis Daramaras and performer Sania Stribakou explore the dichotomy between mythical and scientific thought, using printed material as metaphor for the set of cultural and political elements that shape our cognitive activities. In pursuing the tension between myth, which denies temporality, and knowledge contained in the printed book, which rests on the idea of chronological sequence, the artists produce a decoding and critique of the concepts of knowledge.


Throughout the show's duration, the artists Katerina Bella, Sania Strimbakou and Panajotis Daramaras will develop a dialogue with the works of the installation, resulting in a final performance on Saturday, December 22 at 20:00. Lighting Design for the entire show by Apostolos Stratzalis.


Panajotis Daramaras is a visual artist who lives and works in Athens. He studied at the Stavrakos Film School, attended Modern Dance and Conducting lessons, and later graduated from the School of Fine Arts in Athens. He has designed sets for films and theater, and has participated in many group art exhibitions. In 2013 he choreographed and interpreted the work "Traces" in collaboration with Aggeliki Papadatou.


Sania Stribaku is a dancer and dance teacher. A graduate of the State School of Orchestral Art, she continued her research in Paris and New York with a scholarship from the Onassis Foundation at the studios DanceSpaceCenter and Movement Research. She has danced with the Amalgamas, Yelpdanceco, Quasistellar, Ypsilon, Fingersix/Athens, among others, and worked with choreographers GosiaHaduch and the UnfinishedCompany, MarcelaGiesche, PereFaura, LilyKiara, Filolouvari, Giorgos Sideros Deligiannis and others. She has choreographed the piece "Passe-partout" in collaboration with Maria Mavridou, the Nota(c)tion project, and a piece which opened the University of Peloponnesos event "Taste and Memory".


FokiaNou Art Space is an artist-run project space in the intimacy of a small apartment in an old building in the center of Athens. The apartment has been transformed into an open space that encourages collaborative creative efforts between Greek and foreign artists, thereby promoting and supporting the local art community. The space hosts exhibitions, workshops and projects under the direction of two artists, Mary Cox and Panagiotis Voulgaris.
www.fokianou247.gr

Opening: Saturday, 8 December 2018, 19.00
Opening hours: Thursday to Saturday 17.00 - 20.00.
Performances: Saturday 8, 15, 22 December at 19:00
EVENT INFO
When

:

08 Dec 2018 - 22 Dec 2018

Where

:

Fokianou 24, 7th floor, Pagkrati, Athens.Fokianou 24, 7th floor, Pagkrati, Athens.

Title:

FokiaNou Art Space - indeX Exhibition

Email:

info@fokianou247.gr

Website:

www.fokianou247.gr/