"Beading, Felting, Weaving, Drawing": Sofia Archangelou & Aikaterini Koutroubi Εxhibition Αt FokiaNou Art Space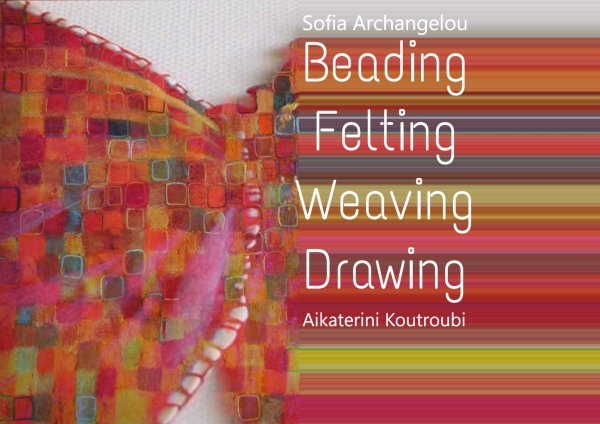 FokiaNou Art Space is an artist-run project space in the intimacy of a small apartment in an old building in the center of Athens. The apartment has been transformed into an open space that encourages collaborative creative efforts between Greek and foreign artists, thereby promoting and supporting the local art community. The space hosts exhibitions, workshops and projects under the direction of two artists, Mary Cox and Panagiotis Voulgaris
Aikaterini Koutroubi
hails from Nauplio, and studied art conservation and restoration, painting and icon painting, as well as jewelry-making and weaving. Much of her work is inspired by Greek traditions, particularly the folk art involved in the making of the dowry chest. Her jewelry, the installation of which can be seen as a singular work itself, blends painting, weaving and embroidery into beautiful pieces.
Likewise, Sofia Archangelou's work mixes drawing, painting, weaving and wet-felting in a series she completed in the last few years while in residence in London and Avanton, France. An Athenian artist and musician, she studied piano at the National Conservatory and participates regularly in various musical programs.
Schedule: Wednesday to Saturday | 17:00 - 20:00
Workshops: "Thread and Color", with Aikaterina Koutroubi, Saturday, 15 September, 15.00 and "Felting", with Sofia Archangelou, Saturday, 29 September, 15.00.
EVENT INFO
When

:

14 Sep 2018 - 29 Sep 2018

Where

:

FokiaNou Art Space: Fokianou 24, 7th floor, Pagrati

Title:

"Beading, Felting, Weaving, Drawing": Sofia Archangelou & Aikaterini Koutroubi Εxhibition Αt FokiaNou Art Space

Email:

info@fokianou247.gr.

Website:

www.fokianou247.gr