En Aithria 9
by Hellenic American Union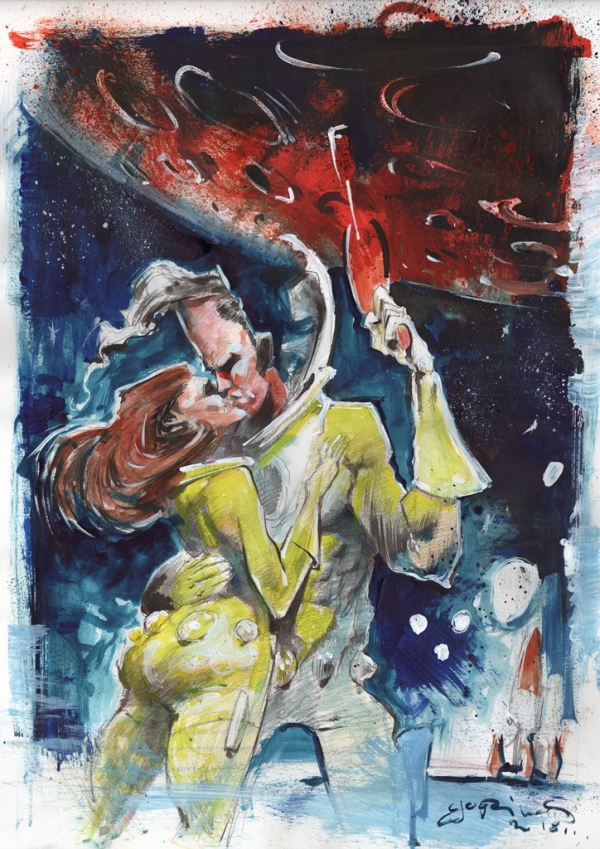 The historic comics and illustrations exhibition at the Hellenic American Union…

Comicdom Press and the Hellenic American Union, in cooperation with the Hellenic American College (HAEC), proudly present the comics and illustrations group exhibition En Aithria 9, featuring 83 Greek creators.

The exhibition series "En Aithria" is an initiative by Artistic Director Gabriel Tompalides aiming to bring together in a single space the work of renowned artists of the local comics and illustrations scene with that of up-and-coming new talents.

Free of any particular curatorial prompt, as always, participating creators hail from a wide range of different styles and schools, in an attempt to showcase both the diversity in the creativity of Greek artists and in what motivates them in the present time and place.


Exhibition curators: Dimitris Sakaridis, Elias Katirtzigianoglou and Melandros Ganas.


Featuring the following creators:

Irini Agelidou
Dimitris Agarai
Dimitra Adamopoulou
Spyros Evangelos Armenis
Eugenia Vereli
Panagiotis Vlamis
Vasilis Gerkou & Angelos Papoutsis
Dennis Giatras
Tomek Giovanis
Melandros Ganas & Alexandra Tribola
Vassilis Gogtzilas
Giorgos Gousis
Elena Gogou
Spiros Derveniotis
Georgios Dimitriou
Vasilis Dimopoulos
George Doutsiopoulos
Triantaphyllos Eleutheriou
Giannis Ermidis
Vasilis Zikos
Efi Theodoropoulou
Panos Kamoulakos
Avgi Kanaki
Vera Kartalou & Panagiotis Tsaousis
Dimitrios Kasdaglis
Elias Katirtzigianoglou & Eugenia Koumaki
Michael Katoglou
Daphne Keskenidou
Thomas Kefalas
Stavros Kioutsioukis
George Komiotis & Harry Saxon
Rafaella Koni
Dimitris Koskinas
Arinela Kociko
Nikos Koutsis
Tasos Kyriakidis, Filippos Konstantakis
Nearhos Konstantinou
George Konstantopoulos

Manos Lagouvardos
Aris Labos
Alexia Lougiaki
Vasilis Lolos
Lefteris Mavrogiannis
Nikos Milioris
Panagiotis Mitsobonos
George Micalef
George Moundroukas (Gemo)
Athanasios Bangeas
Hariton Bekiaris
Lila Belivanaki
George Botsos
Kostas Nikellis
Dimitra Nikolaidi
Marios Ksidonas
Alexia Othonaiou
Dimitris Pantazis
Kostas Pantoulas
Siadora Papatheodorou
Thanasis Petrou
Yannis Rubulias
Angeliki Salamaliki
Konstantinos Sklavenitis
George Soulis
Nikolas Stefadouros (Stef)
Tety Solou
Gabriel Tompalides
Thanos Tsilis
Kostas Fragiadakis
Nektarios Chionis
Rianna Adams
Malk
Darina Miroshnichenko
Orestix
Rob Snow
Dani Strips
Tasmar
Maggie Tsiopelaki
EVENT INFO
When

:

12 Sep 2018 - 29 Sep 2018

Time

:

19:00 - 14:30

Where

:

Kennedy Gallery, Hellenic American Union

Price

:

Admission is free

Title:

En Aithria 9

Email:

culture@hau.gr

Contact Number:

2103680052