Athens Ring Or Daktylios Athinon Is Back In Service
by XpatAthens
Tuesday, 01 October 2019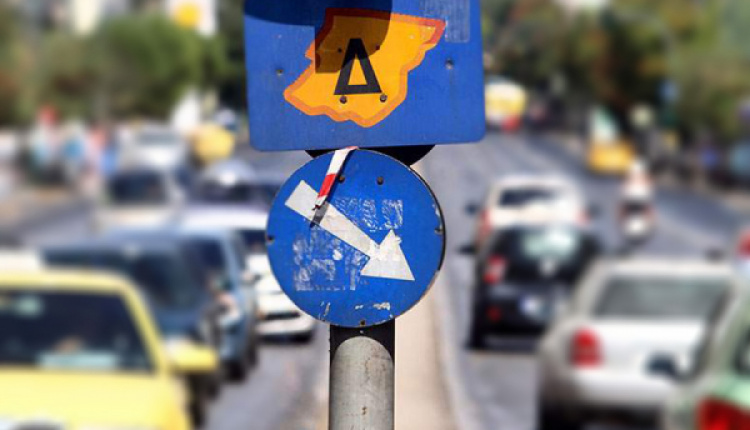 The Athens Ring is back in service from Monday, September 30 2019 to Friday, July 17 2020. The Athens Ring or 'Daktylios' in Greek is a specified area in central Athens controlled by an odd/even traffic system in order to regulate traffic congestion and pollution in the center of the city.
Essentially, private vehicles and trucks are alternately allowed in the center of Athens depending on the current date and the last digit of their registration plate. For example: cars with odd number plates will be allowed in the center of the city on the odd days of the month and vice versa.
The Athens Ring is indicated with a 'Δ' street sign (see image) and is bordered by the following streets: L. Alexandras, Zaharof, L. Mesogeion, Fidippidou, Michalakopoulou, Spyrou Merkouri, Vryaxidos, Ymittou, Ilia Iliou, Amvrosiou Frantzi, L. Syggrou, Hamosternas, Peiraios, Iera Odos, L. Konstantinoupoleos, Achilleos, Plateia Karaiskaki, Karolou, Marni, 28 Oktovriou (Patission), L. Alexandras.
The measure is implemented on the following days and hours:
Monday to Thursday (07:00 - 20:00)
Friday (07:00 - 15:00)
The measure does not apply:
On Saturdays and Sundays
During public transportation strikes
On official holidays
In the summer, between mid-July and late September
Drivers who violate these measures face a 100 euro fine.
Residents living within the Athens Ring can issue a special permit from the Attica Traffic Police from September 2 2019 until November 11 2019. Working hours are Monday to Friday (08:00-15:00) and Saturday (09:00-12:00).
You will need to provide the following documents:
Vehicle registration license
Proof of residence (utility bill in your name, house rental contract, or recent tax statement)
ID (a Greek identification card, passport, or an EU identification card)
On rare occasions, when the pollution levels are high, the ministry of transportation implements the so-called 'Big Ring' which encompasses the majority of greater Athens. You will be informed about these instances from the local news.