Cookisto.com: Homemade Food Delivery Service
by XpatAthens
Wednesday, 18 February 2015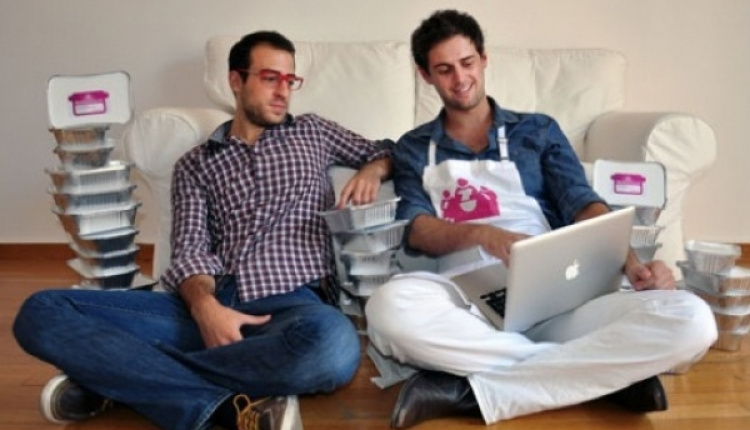 Fabulous food like Smyrna-style meatballs, delectable sweets, and fresh sushi are cooked daily in homes and transported in plastic containers from neighborhood to neighborhood. Behind all this lies Cookisto.com. The founders Michalis Godas and Petros Pitsilis talk about their idea that has become a huge success in Athens.
What is Cookisto?

It's an online community that allows you to find tasty, homemade food wherever you are or enter your own homemade creations. For the more advanced, it is like the eBay of eating.

How did you get the idea?

When you're literally hungry, you become inventive. The idea was born when we realized how easy it is for someone who cooks for himself or his family, to increase the number of portions and share them with other people. The occasion for its implementation was Michalis' thesis. Panagiotis Paradellis undertook the technical part, and soon John Asimakopoulos (Community Manager) and Demosthenes Nikoudis (programmer) joined the team. The crisis was a positive factor for the success of Cookisto, since now people are looking for new innovative alternatives even in food!
Who is your target?

Cooks (people who cook at home) and foodies (people who love homemade food). A cook can be anyone loves cooking, is passionate and wants to share their passion. Do celebrity chefs also cook for us? Sure! In Cookisto.com you will find cooks from talented housewives to professional chefs. From stuffed gemista to sushi! The truth is that the gemista are currently ranked higher in popularity so far ...

Give us some reasons for us to become members as well.

Only in Cookisto can you find delicious, healthy meals from talented cooks at cost prices! Finally people who love to cook are given the opportunity to show off their talent through our community.

How can we verify if the Mrs. Maria from Kipseli has not put parathion in the spinach or simply does not respect the basic rules of hygiene?

Such ventures are feasible because technology now allows us to trust strangers. This is the power that Cookisto utilises as do other similar platforms, such as Ebay and Airbnb. Now you can stay in the home of a stranger for a night, rent the car of your neighbor, choose someone to help with your small daily chores and the list goes on ... So by connecting your Cookisto accounts to other social networks such as Facebook and Twitter, it adds an extra level of trust towards you. Of course, the main role reflection of trust can be found in the reviews and ratings of other users that are also a strong indicator of future quality of the service of the chefs.

Do you make any profits?

Currently, we do not. Our priority is to create an active community and for people to love our application. In the future, each user will be able to buy cookisto credits, use them for transactions, and we will retain a very small commission.

How do you imagine Cookisto after 10 years?

It is difficult to plan ahead for 10 years... However, we have dreams and aspirations. We have now started with Athens as our focus. In the future we plan to expand to other Mediterranean countries, as we believe that both the cultural significance around homemade food and the economic crisis are favorable factors.
How have people reacted in this short amount of time you've been online?

Results so far have exceeded our expectations. After one month of effective functioning, we have 240 cooks and more than 1,700 foodies and already through our platform have delivered almost 400 servings!

Author: Nenela Georgele