StartUp Safary Athens 2015
by XpatAthens
Friday, 20 November 2015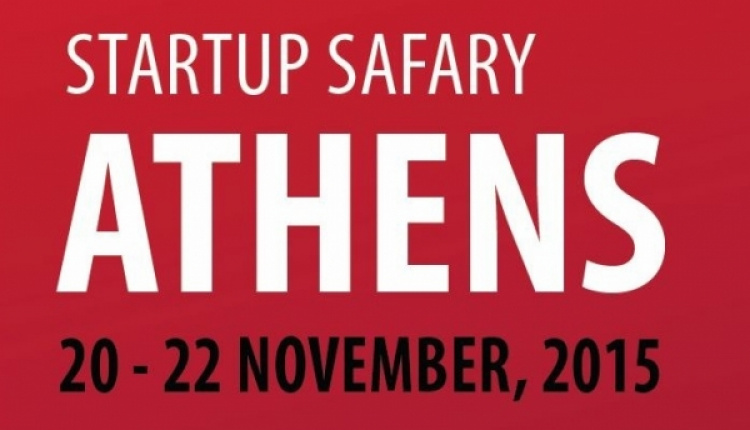 Startup Safary is a multi-dimensional event that guides its participants through the startup ecosystem of the hosting city.

It started in 2013 in Berlin, Germany from members of the city's startup ecosystem. Since then the event has expanded to other European cities and from 2014 it is also taking place in Athens, Greece, a city with the thriving startup ecosystem the last years, especially during the financial crisis.

Although Greece has a long history of entrepreneurship and doing business and although the first online companies started appearing in the country as early as 1998-1999, following the dot.com rise in the USA, it was only after 2010 with the economic crisis that startups started taking off. Five years in, Greece has a developing startup scene, with a lot of companies scoring big funding rounds or acquisitions, while many initiatives have started aiming at supporting new entrepreneurs.

This year Startup Safary Athens, an activity organised under the auspices of the Global Entrepreneurship Week, is taking place on November 20-22 and for three days the town's coolest startups and tech companies will open up their doors, while co-working spaces and incubators, academia and other institutions will host keynotes and side-events supporting the networking between the startup scene of the city.

Participating startups include Heliix, EazyBNB, NutrINsider, Palo Services, Conferience, Tourismart, isMOOD, Owiwi, Travelplanet24, Apivita and 100Mentors. Participating initiatives include Orange Grove, egg, Bios Romantso, InnovAthens, The Athens Incube, Stone Soup, Aephoria and Found.ation. Startup Safary Athens support among others Hellenic Professionals Informatis Society, UK Trade & Investment, City of Athens, Hellenic Startup Association, American-Hellenic Chamber of Commerce and ESYNE.

Startup Safary Athens organisers have put together for another year a really completed and diverse program for all the participants. Highlights include:

The Apivita Experience Store (Solonos 6 & Kanari, Kolonaki):
The company will host at its Experience Store in downtown Athens a series of keynote speeches (Apivita's Head of Human Resources, Apivita's CEO, Felix BNI's Peter Economides, Taxibeat's Nick Drandakis), as well as a recruitment session and a free diagnosis of face skin type and beauty tips.


InnovAthens (Technopolis, Kerameikos):
Seasoned institutional investor Loukas Pilitsis (founding partner at Anchorstone Partners and ex-head of Piraeus Bank Group's VC & PE) has put together a discussion panel on supporting Greek startups in scaling globally during the crisis times. He will be joined by Intale's COO Orestis Tzanetis, HSA's President Socratis Ploussas and Eurobank's Head of Digital Innovation Sotiris Sirmakezis.

StartupLab at Orange Grove (Leoforos Vassileos Konstantinou 5-7, Kallimarmaron Stadium):
The incubator set up by the Embassy of the Netherlands in Athens will be transformed into a Startup Lab of creativity and entrepreneurial experiments for this year's Startup Safary Athens. Orange Grove will host Dutch entrepreneurs and experts with experience in the Netherlands, USA, Africa, Asia and Latin America, while participants will have the chance to either start developing their ideas or early-stages startups or delve deeper into the business worl by following hands-on workshops in topics like business plan execution, advanced marketing automation, nomadic entrepreneurship etc. During Startup Safary Orange Grove will introduce for the first time in Greece the Valorisation Canvas which will help participants to develop their ideas.


Startup Safary @ the egg (Leoforos Syggrou 190, Kallithea)
The egg is a 12-month incubation program set up by Eurobank and Corallia Clusters. This year they have put together a full program with keynote speeches, as well as presentations from the companies hosted in their premises. Speakers include Athanasios Kalekos, partner at Odyssey Venture Partners, Theodoros Moulos, COO at Pinnatta, Vaggelis Papakonstantinou, co-founder at MpLegal Law Firm, Fanis Rigas, co-founder at Kariera.gr and serial entrepreneur, and Dimitris Gkanatsios, Technical Evangelist at Microsoft. In between the speeches, the visitors will have the chance to see pitches from egg startups in tourism, agrobusiness and foodtech, e-business, industrial design, ICT and edutech, medicine and pharmaceutical and logistics sectors. Last but not least egg will give voice to young innovators to pitch their own ideas for 5 minutes in front of egg stuff and visitors.