Power And Pathos Review: Once-In-A-Lifetime Look At Greek Bronze Sculptures
by XpatAthens
Wednesday, 05 August 2015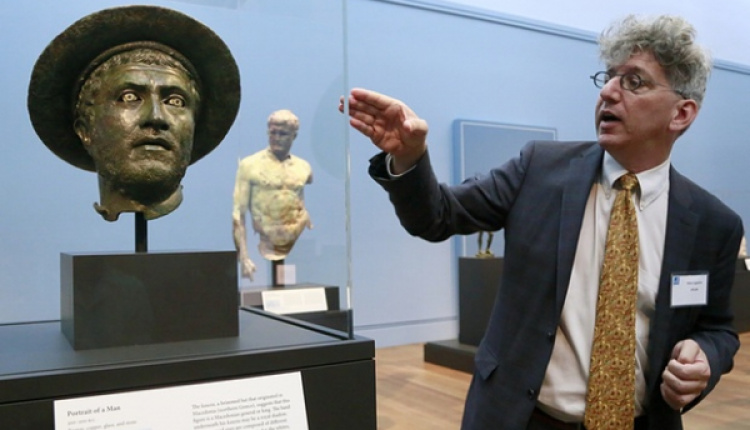 With loans from 34 museums in 12 countries, this exhibition at the Getty Center in Los Angeles includes ancient treasures never before assembled in one place.


On the Greek Isle of Rhodes a 30-meter bronze statue of their patron god Helios, famously known as the Colossus, watched over the harbor for more than 50 years, until it was felled by an earthquake in 226BC. Ptolemy III offered to rebuild it, but the oracle of Delphi said the people had offended Helios, and the bronze fragments remained where they lay for 800 years before they were hauled away.


No one knows where the Colossus stood or what it even looked like, which can be said of the vast majority of Greek bronzes from the period marked by the end of Alexander's reign in 323BC to the beginning of the Roman empire. Colossus sculptor Chares of Lindos was a student of Lysippos – Alexander's court sculptor –and was regarded as the finest in the medium, yet of his 1,500 works, none have survived.


Today, fewer than 200 large-scale bronzes of the era remain, and 47 of them are on display in Power and Pathos: Bronze Sculpture of the Hellenistic World, at the Getty Center in Los Angeles. With loans from 34 museums in 12 countries, this once-in-a-lifetime exhibition includes numerous national treasures never before assembled in one place. The show stops in three cities only: it went to Florence in March, and travels to the National Gallery of Art in Washington DC this December.


"It's two terms that are meant to distill what Hellenistic sculpture is about. Ruler culture emerges as a genre in this period," is how Getty curator of antiquities Jens Daehner explains the show's title. Co-curator Kenneth Lapatin adds: "Pathos in Greek means a kind of lived experience, as opposed to the ideal figures."


That last remark is part of what separates Hellenistic bronzes from their predecessors. Where earlier archaic and classical subjects were mainly mythical figures and demigods presented in idealized form, the Getty show features everyday people, noblemen, artisans and athletes, reflecting a new political reality framed by Alexander and his successors. Most finds are in secondary and tertiary locations, separate from their original bases describing the work. As such, the figures represented are mostly anonymous civic leaders, wealthy patrons, fellow citizens and the deceased.