One Man's Trash: Greek Designers Go Green
by XpatAthens
Wednesday, 22 September 2021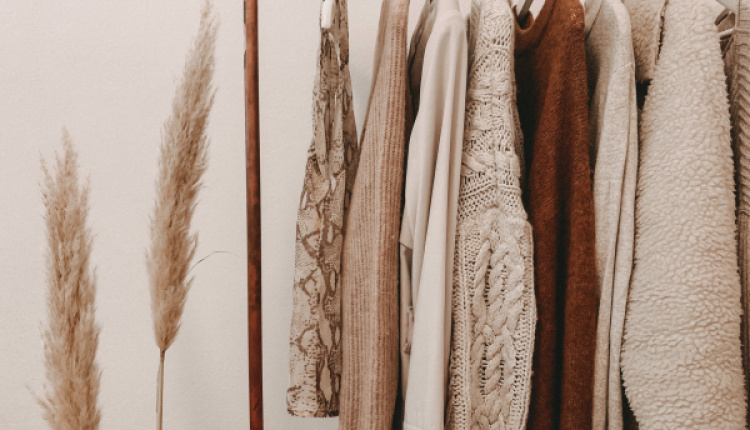 Environmental awareness in Greece is slowly on the rise. The single-use plastic bag charge levied at supermarkets since January 2018, gives shoppers pause. Prince Charles' televised refusal of a plastic straw for his cold coffee while visiting Athens split commentators between admiring his eco-credentials and mocking his froth mustache.

But even before the reduce, reuse, recycle movement hit the headlines, young Greek entrepreneurs have been saving throwaways from sea or landfill and using them to create homeware and accessories that are as alluring as they are ethical.


Rokani: As Wood as it Gets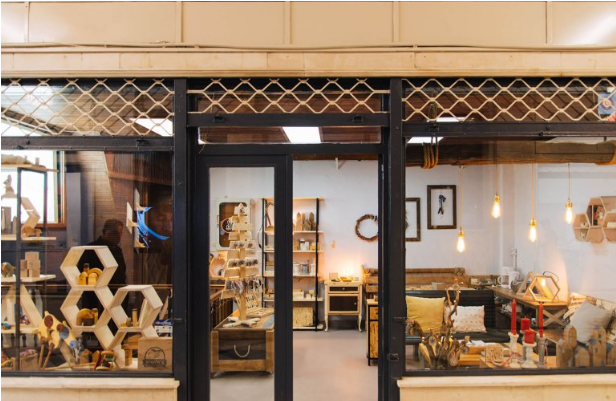 Credit: Thomas Gravanis
At street bins around Athens, you'll frequently see old drawers, bedsteads, and pallets waiting to be landfilled. Rokani gives this junk a new lease of life. "It started when one of us was renovating his own home. We experimented with upcycling some of the pallets, and then thought, why not take this further?" says Stratos Hadjiyiannakis, one of Rokani's five founding members. "We all came from a technical background. After the economic crisis we were looking for an opportunity to start something for ourselves."
They set up in a small workshop, started salvaging pallets, door-frames, and other pieces of wood. After cleaning, filing, and sanding them, they refit them as bookshelves, beds, cupboards, tables, lamps, and even toys. As well as a small store in the Stoa Emboron arcade, they also do made-to-order pieces. If you see something you like online, send a photo to Rokani and they will send you an estimate and create it for you. If your space or style changes, they welcome back old items you have purchased from them—in any condition—and offer you 30% of the current value to buy something else. "As well as promoting recycling, we also promote a cyclical economy," says Hadjiyiannakis. "Instead of throwing it out, give it back to us. We will find something to do with it."


Prices: €25-30 for a bookshelf; €150-400 for a table.
Address: 8-10 Voulis, Merchant's Arcade Historic Centre
Telephone: 695 535 0143


Thela: Circles of Life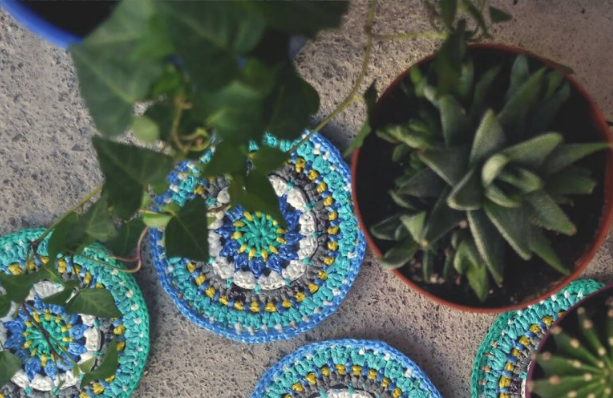 Courtesy: Thela


Moving from Mumbai to Athens in 2017 gave graphic designer Diti Kotecha the chance to plant a seed that had been rattling around in her head for 20 years. Starting afresh in a new country where plastic bags were handed out like there was no tomorrow, she combined her skills in crocheting, her creative background, and her dedication to sustainability by launching Thela. A vibrant-hued collection of accessories, each piece is made entirely from discarded plastic bags. They are washed, dried, cut into yarn, and then crocheted into brooches, earrings, coasters or floor mats.


The glorious slate-grey and yellow circular Chatai mat uses almost 60 second-hand plastic bags, rescued from ending up on beaches, fields, in oceans, or landfills. And saving some of the estimated 1 million animals killed by discarded plastic bags each year. Nothing is wasted; Kotecha uses the bag handles and seams (which are not usable for yarn) to stuff pom-poms. Thin plastic bags are photodegradable. While crocheting makes the yarn resilient, Kotecha refrains from adding UV coatings, as these are highly toxic and prevent further upcycling.


Prices: from €10 (brooches) to €80 (floor mats).


Think Sea: Nautical and Nice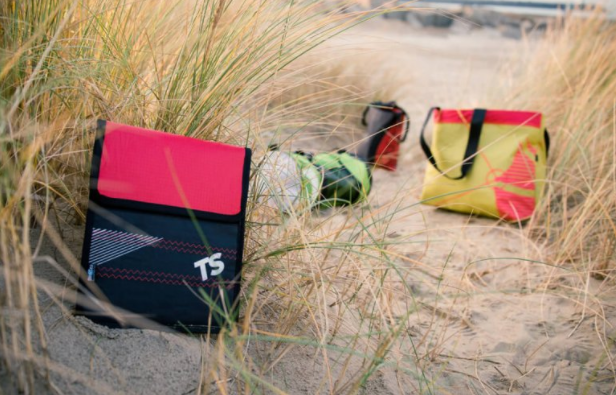 Courtesy: Think Sea
Think Sea invites donations of 'retired' windsurf sails at its base on the island of Paros. The design team transforms them into trendy and durable phone/tablet cases, bags, and wallets. Sounds esoteric? Indeed. But as windsurfing sails are not recyclable, every new rig discarded after a summer of wear and tear was ending up in a landfill. Who knows, that bold color-block duffel bag you are eyeing up might once have carried champion windsurfer Nikos Kaklamanakis to Olympic victory!
Prices: from €25 (iPhone cases) to €78 (duffel bags).


Shedia Art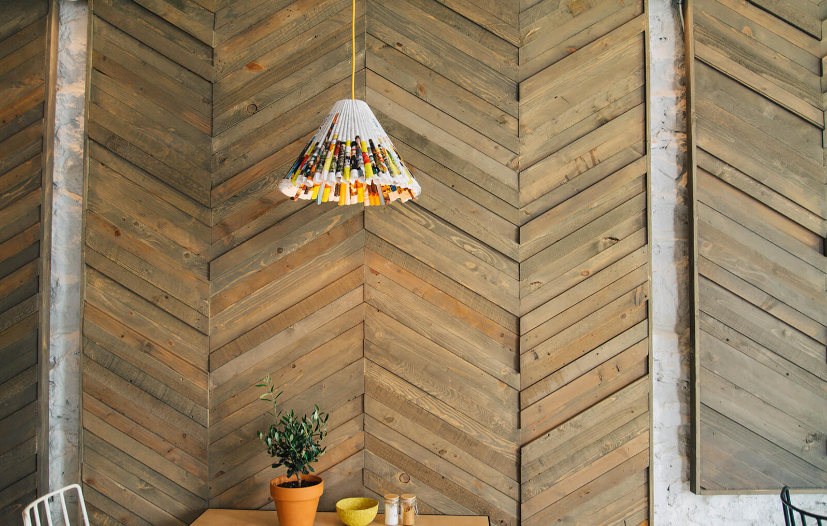 Credit: Thomas Gravanis
Chris Alefantis has his social and environmental awareness hat on. You may have noticed people standing outside metro stations throughout the city in red Shedia vests selling a magazine by the same name. Aimed at empowering people in poverty, Shedia does much more than sell street papers. The leftover issues are used to create art objects, from lampshades to flower pots to clocks to delicate bracelets, necklaces, and earrings, by people over the age of 50 who previously had difficulty finding employment. "We're making the invisible visible again," Alefantis says, referring to both the people that are being helped and the magazines that would have otherwise been thrown out for recycling. Check out their store on Kolokotroni street, which also just opened as a café and restaurant or the offshoot in the nearby Merchants arcade. Affordability and responsibility is the new black.
Prices: from €2 (fridge magnet) to €100 (large handmade lampshade).
Address: 56 Kolokotroni Street, Monastiraki, 105 60
Telephone: 213 0231220


---
Whether you've just arrived in town – or have been here for years – Athens always has new secrets to share!


This is Athens
is the official guide to this captivating city of ancient energies and booming urban culture. Compiled by a team of specialist local writers, This is Athens brings you an authentic and intimate portrait of a living Athens beyond the guidebooks – along with daily curated listings of all the best events and great weekend inspiration all-year round. From must-know neighbourhoods and emerging art hubs, to gourmet hotspots, cool shopping and the buzziest bars, This is Athens will help you to get the most out of living in Athens!