Fantastic Greek Summer Reads - The Greece In Me Box Set
by XpatAthens
Wednesday, 22 June 2016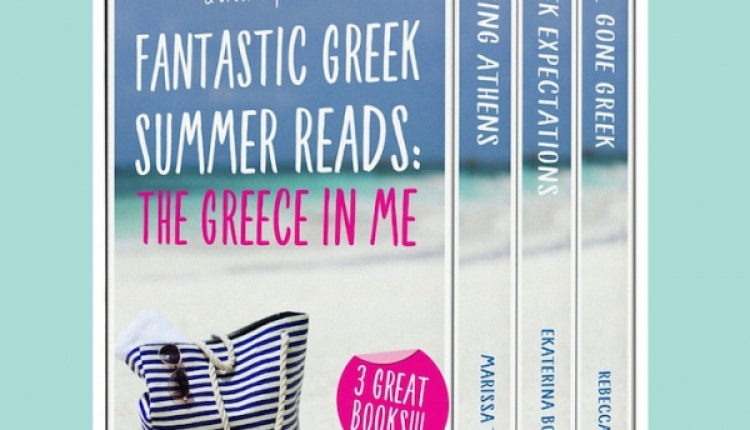 Just in time for beach season, the 'Fantastic Greek Summer Reads: The Greece in Me' box set is available on Amazon for 6.99.


The eBook bundle features three books: 'Chasing Athens' by Marissa Tejada, a romantic comedy/women's fiction novel; 'Girl Gone Greek' by Rebecca Hall, a coming of age/contemporary women's fiction novel; and 'Greek Expectations: The Last Moussaka Standing' by Ekaterina Botziou; a Greek life guide/memoir.


Each book in the collection tells an inspiring story in which Greece is integral to the setting and also proves to be an important "character" in each book.
CHASING ATHENS by Marissa Tejada


Touching on the expat experience, Tejada tells a fantastic story of heartbreak and self-discovery to define the meaning of home…


Uncertain of her future after a heart-breaking split, American expat Ava Martin throws herself into the thick of Athenian reality and soon discovers that the tumultuous, culture rich Mediterranean country is coloring her life in a way no place else can, changing her forever.

What people are saying...

"The imagery of the setting is lavishly graphic, from the blend of ancient and modern architecture, crystal blue waters, and breath-taking island views to the tumultuous streets due to economic distress."

"When was the last time you searched for a new book only to find yourself drawn into it so quickly that you could not put the book down? Somehow I have a feeling this will become a classic traveller story."

"Chasing Athens is a fantastic story of heartbreak, self-discovery and finding love again. I really loved how Marissa depicted Athens so that it came alive for the reader."


GIRL GONE GREEK by Rebecca A. Hall
A tale of self-discovery and realisation that home and belonging don't necessarily have to be your birthplace…


When Rachel moved to Greece to escape a life of social conformity, she found a country of unconventional characters and economic turmoil. The last thing she expected was to fall in love with the chaos that reigned about her.

What people are saying...

"It is really refreshing to read something that is a love story, but not between the typical man and women but through friendships and a love of a country."

"The author's writing style helps the narrative flow, resulting in a quick, light yet delightfully fun read. I feel like I am right there with Rachel, seeing what she sees and feeling what she feels."

"A sensitive tale of a fairly naive young lady whose eyes are opened to a different culture and different ways of life as she ventures to live in the warmth and blue skies of a Mediterranean village."


GREEK EXPECTATIONS: THE LAST MOUSSAKA STANDING by Ekaterina Botziou


Part memoir, part rant, part survival guide. A witty cautionary tale of Greek love and life…


Growing up in a semi-Greek household, Ekaterina Botziou spent much of her childhood defying her father's wishes for her to learn to play the bouzouki, and refusing third helpings of moussaka. Unfortunately, Zeus had other ideas and in a twist of fate some years later, Ekaterina found herself married to a Greek-Cypriot and battling against the stale old laws of Greek tradition.
What people are saying...
"I have never laughed so much. It was almost like Ekaterina was writing about me! Congratulations Ekaterina on a well written book that will make Greeks/Cypriots and anybody else in the world laugh. It's a great medicine."
"Such a fantastic read, it had me laughing all the way through! Coming from a multicultural background myself, I could relate to many of the crazy family experiences recounted in the book."
"Ekaterina Boziou has a sharp, critical eye and an amazing sense of humour which make up a refreshing, witty, passionate, original and inventive narrative."
For the UK Amazon site:
click here.
For the US Amazon site:
click here.