Portaria: A Beautiful Traditional Pelion Village
by XpatAthens
Wednesday, 18 February 2015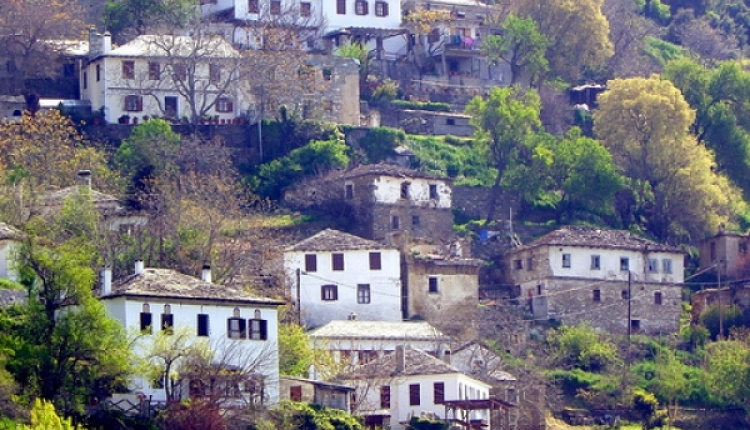 Portaria in Pelion (Pilio) is one of the most beautiful, interesting and unique traditional villages in this entire region of Central Greece. With its stunning natural beauty, fresh spring waters, impressive traditional mansions and winding cobble-stoned paths, Portaria is surely one of the few places where you can find tranquility and beauty right in the heart of Greece.
The geographic location of Portaria is perfect for holidays all year round. Located only 13km from the city of Volos, and at an altitude of 650m, right on Mount Pelion, Portaria is an ideal starting point from which to explore all of this wonderful mountain area of Greece.

Pelion has many beautiful beaches and sea waters, which are ideal during the hot summer months. And during the winter season, the Ski Center of Agriolefkes, just a short distance from Portaria, is a very popular destination for visitors.

Portaria is a village that you really have to visit to appreciate. We are sure that once you have visited Portaria, we will have captured your heart and imagination, and that you will return here time and time again in the future.

Festivals in Portaria

During the summer months in Portaria, there are several cultural activites that take place, which everyone is welcome to attend and enjoy.

In July, the "International Dance Festival for Children" takes place, and in August the "International Dance Festival" begins.
These events are a wonderful opportunity to come and enjoy music and dance from all over the world, and join in the celebrations that take place suring these festivals.

During the last week of August, there is the revival of a traditional Pelion-style wedding that takes place.

In Autumn, there is the "Ascent of Portaria", which is organised by the car club of Volos.

Festivals aside, there is one stop which you should make, and that is to the "Komboloi Museum of Portaria", where you can come and see the many kombolois on display as well as purchase a set for yourself.


To read more, please see visitportaria.com