Kefalonia's Magnificent Scenic Drive
by XpatAthens
Wednesday, 18 February 2015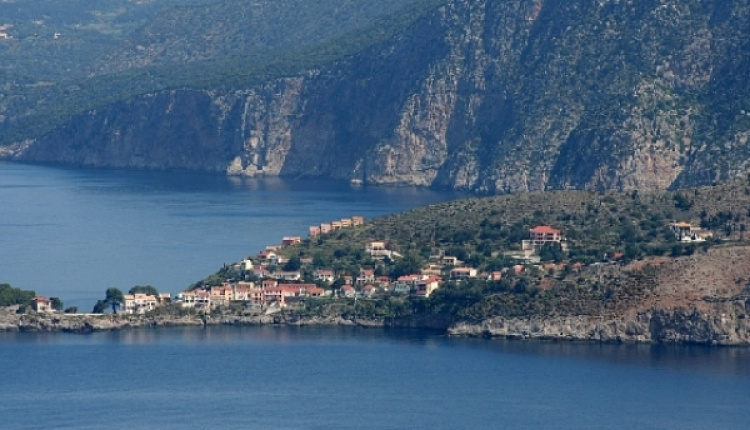 Visitors to the island of Kefalonia have plenty to choose from when it comes to beaches and sightseeing. My favorite trip is the magnificent drive from Argostoli to the harbor village of Fiskardo. It's one of the most scenic routes in the Greek islands and should be on everyone's to-do list. After leaving the capital, you don't have long to wait before the stunning views appear.
Head out round the southeastern edge of the lagoon, past the old bridge, and look back at the Argostoli waterfront. Don't dwell on the panorama too long or you'll miss the wonderful statues and mausoleums of Drapano Cemetery.
For the next few miles, the road climbs steeply until the crystal waters of Argostoli Bay sparkle in the sunshine hundreds of feet below. In the distance, across the channel, the hills of the Pali Peninsula intersect sea and sky. If you've rented a Porsche, the twisting corniche will put your driving skills to the test; for the rest of us, sit back, get the camera out and enjoy the ride—remember to bring extra batteries.

Eventually, you'll cross the isthmus connecting the Pali Peninsula to the mainland. The sea view disappears for a few miles but the rugged hills, dotted with pines, speak of a desolate beauty. Don't worry the best is still to come.

About twenty miles out of Argostoli is one of Europe's most photographed beaches. Here you'll need to decide whether to take the winding track down the cliff to Myrtos Beach or just pull over and take pictures. The light on these Kefalonian cliffs has an unworldly clarity, drawing every shade of blue and turquoise from the sea, setting it off against the snow-white arc of the beach.

A few miles further north, the ruined castle at Assos serves up another breathtaking view. Built by the Venetians in the 16th century, the fort sits atop a rocky outcrop overlooking a sheltered harbor and picturesque village. Home to some of the most photogenic buildings on the island, Assos is certainly worth checking out.
If you didn't make it down to Myrtos, there's still Emplisi Beach—five minutes out of Fiskardo. It's a quiet sheltered cove, an ideal spot for a refreshing swim.
Next up is charming Fiskardo where pastel-painted buildings line the quayside, their walls festooned with flowers. Lock up the car, stroll down to the harbor and enjoy some Greek dishes under a shaded cabana by the water's edge.

There's plenty to see in Fiskardo but plan on leaving a couple of hours before sunset if you're returning to Argostoli—negotiating the tortuous bends in the dark might not be for everyone.

If you make it back in time, finish the day at Saint Theodori's Lighthouse. Santorini may be the sunset capital of the world but you won't be disappointed as the sun disappears behind Paliki leaving the sky a kaleidoscope of purple, red and orange.

On days like these, it can seem unfair that Greece and its islands have so much natural beauty.

About the Author

Paul Dillon is a British author living in Los Angeles, California. His Kefalonia novel, The Magic in the Receiver, is currently an Amazon bestseller in the Greek Travel category.

Source: Visitgreece.gr