Ancient Corinth
by XpatAthens
Wednesday, 18 February 2015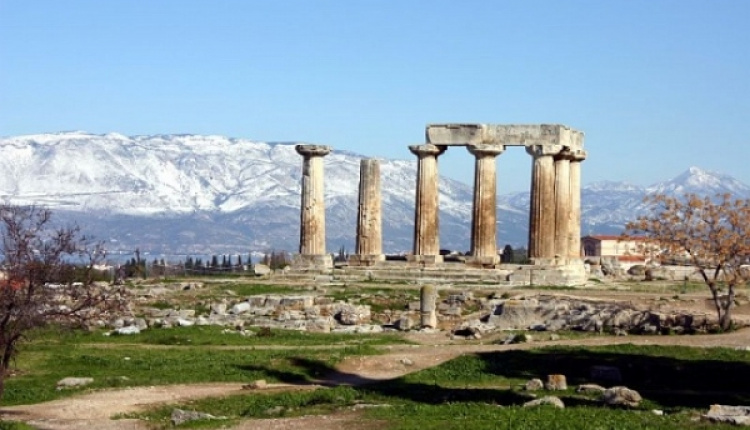 Corinth (Greek Κορινθία) is an ancient city about 48 miles west of Athens on the narrow stretch of land that joins the Peloponnese to the mainland of Greece. Corinth was an important city in ancient Greece and it played a major role in the missionary work of the Apostle Paul. Today, Corinth is the second largest city in the Peloponnese with several sites of interest to pilgrims and tourists.
History

The site of ancient Corinth was first inhabited in the Neolithic period (5000-3000 BC), and flourished as a major Greek city from the 8th century BC until its destruction by the Romans in 146 BC.

Its commanding position on the Isthmus of Corinth, the narrow strip of land that separates the Peloponnese from northern Greece, was the primary basis of its importance. Corinth controlled the diolkos (Greek for "haul across"), the 6th-century BC stone-paved roadway that connected the Saronic Gulf with the Gulf of Corinth. This overland route was highly valuable in that it allowed passengers and cargo to avoid the difficult and time-consuming trip around the southern end of the Peloponnese.

Being a leading naval power as well as a rich commercial city enabled ancient Corinth to establish colonies in Syracuse on the island of Sicily and on Corcyra (modern Corfu). These colonies served as trading posts for the richly ornamental bronze works, textiles, and pottery that Corinth produced.

After 1204, when Constantinople fell to the Fourth Crusade, Corinth was a prize sought by all. Corinth was captured by the Turks in 1458; the Knights of Malta won it in 1612; the Venetians took a turn from 1687 until 1715, when the Turks returned; and the city finally came into Greek hands in 1822.

In 1893 a 4-mile (6-km) Corinth canal was finally completed, providing an essential shipping route between the Ionian and Aegean seas. Like its ancient predecessor, modern Corinth is the center of commerce between northern and southern Greece. Today, it has a population of about 30,000.
Systematic archaeological excavations of the area, initiated by the American School of Classical Studies in 1896, are still continuing today and have brought to light the agora, temples, fountains, shops, porticoes, baths and various other monuments. The finds are exhibited in the on-site Archaeological Museum of Ancient Corinth.



To read more, please visit sacred-destinations.com